In the Limelight: Theatre Program Offers Students Interdisciplinary Education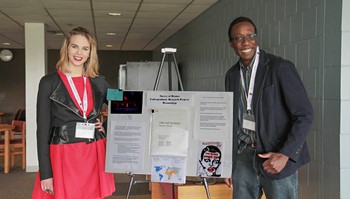 January 10, 2018
An article from the Winter 2018 Issue of the Anoka-Ramsey Community Newsletter

With a draw of the curtain, a flick of the lights and a blast of sound, the theatrical production of "Good N' Plenty" comes to life in the Anoka-Ramsey Performing Arts Center. It's the result of hours of hard work and rigorous academic study, two strengths of the Theatre Department.
"Most people only know us from the work we do on stage," said Theatre Instructor Blayn Lemke. "However, Theatre is an academically rigorous program that engages students across disciplines."
Lemke has been busy leading rehearsals and mentoring students, a role that's illustrated by the many award plaques and student letters that decorate his walls. During the last few years, he has also devoted time to connecting the academic courses to the acting that takes place on stage.
"If you think about it, when you're studying acting, that's when you are really focused on research," said Lemke. "There are historical, cultural, political and economic influences on every play and every character. Studying the historical context brings a greater richness to your work, and it expands a student's understanding of a play, by looking at it through the lens of other disciplines."
In 2017, students in the Theatre program conducted their own undergraduate research project. Taking a closer look at the concept of gender, they presented "Dramaturgy: LGBT and 'The Rocky Horror Show'" at the 2nd Annual OSCARS (Outstanding Scholarship, Creative Activities and Research Symposium). They went on to win second place in the research symposium.
Building on the strengths of the program, Theatre Instructor Lisa Weaver lent her talents to directing theatrical productions at both campuses. She enjoys studying the work in depth and looking at plays through a global perspective in order to find new layers of meaning. She inspires students of all ages to do their best work on stage.
"We definitely try to give students a variety of exposure during their Theatre education," said Weaver. "From comedy and drama to classical Shakespeare, we rotate the plays so that students can experience a range of styles. In the time a student is here, they will take both technical and acting classes, learning how to do stagecraft, design sets, make costumes and even work with sound."
The Theatre program engages students inside and outside of the classroom, and the department sustains strong community ties. Many faculty, staff and volunteers have assisted with theatrical productions, helping each new class of students become a success.
"Theatre is a great foundation for any degree," said Lemke.
The degree program appeals to students pursuing general education credits, as well as students with different levels of experience. They have the chance to attend and present at regional and national conferences, introducing them to four-year colleges and potential career paths.
"I want our students to get a foot in the door and see what goes into the process, especially if they are seriously considering a professional career. The more important thing is our students get to see future educational opportunities and find the best fit for them."
Graduates of the Associate of Fine Arts degree program have gone on to pursue highly-regarded, four-year programs, including at the University of Minnesota Duluth, and Minnesota State University– Mankato. They have also become active in the arts community, sharing their talents.
"I'm proud of what we've accomplished," said Lemke. "From our two-year college, we are expanding and creating an influence on the artistic community in the state and the region."
Playwright Takes the Stage
Jim Belden, an Associate of Fine Arts degree student at Anoka-Ramsey, will present one of several plays he has written during the Region V Kennedy Center American College Theater Festival (KCACTF) in Des Moines, Iowa. His play, "The Camera," has been selected for the Ten-Minute Play Festival, a part of the prestigious regional festival which runs Jan. 21 – 28, 2018. The play has a one-in-six chance of going on to represent the region at the national Kennedy Center American College Theatre Festival in the spring.
A scene from Anoka-Ramsey's production of "The Rocky Horror Show" has also been selected as an "Invited Scene" at the regional festival, giving students the opportunity to perform on stage for nearly 1,500 guests.
Supplementary Information
Recent News

Anoka-Ramsey In The News

Contact Us

Marketing & Public Relations

Media Relations Contacts: Mary Jacobson & Fia Prpic