Profile - Jennifer DeJarlais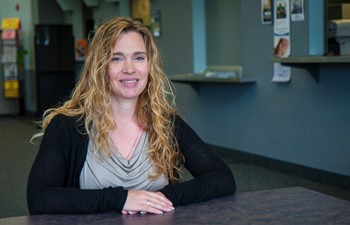 Instructor Profile
Meet Jennifer DeJarlais
Instructor of Wellness
Yoga Alliance Certified (200 hours), St. Paul College
Question and Answer
Question

What is your approach to teaching?

Answer

"Yoga, an ancient but perfect science, deals with the evolution of humanity. This evolution includes all aspects of one's being, from bodily health to self-realization. Yoga means union -- the union of body with consciousness and consciousness with the soul. Yoga cultivates the ways of maintaining a balanced attitude in day-to-day life and endows skill in the performance of one's actions" (B.K.S. Iyengar).

Question

What inspires you as a teacher?

Answer

My training is Iyengar based. His teachings and books have inspired my practice.

Question

How would you describe what happens during one of your most successful classes?

Answer

No matter how you came to class feeling, hopefully, you leave my class feeling even more alive and connected!

Question

What makes your curriculum interesting or valuable to students?

Answer

"Yoga is 99% practice and 1% theory" (K. Pattabhi Jois).

We will physically practice and be present with the breath while doing so. By creating a self-awareness through yoga, it will affect all other areas of your life. You will be able to take this awareness off that mat and into your life.

Question

How do you think students describe your teaching methods and classes?

Question

What are some ways that you help students succeed when they need extra help?

Answer

If students are ever having any challenges, they can talk to me before or after class, and I always have options to help them succeed.

Question

How do you help your students get the most out of your class?

Answer

The hardest part is showing up. That is half the battle. Once you get here, we keep core components to each class, but I offer new challenging poses each week as an option to expand your practice.
Fun Facts
Fun Fact #1

My favorite pose is the headstand! I like to flip things upside down. Headstand is a great energy booster!

Fun Fact #2

I have three boys and three dogs! And I love road trips with all of them!
Meet Our Students and Alumni
Student Carousel
Carousel Navigation
Carousel Slides
Meet Tacita Gonzalez

Tacita Gonzalez

MnTC

Generals & Transfer

"An education is one of the best choices a person can make. For me, my education has benefited me financially, academically and socially."

Meet Cody Laberda

Cody Laberda

MnTC

Associate in Arts

"AR was a great place to start for me. They offered great art classes, which was something I was seriously considering after high school. Also, the year I started was the first year they formed a men's collegiate soccer team/program, so I tried out and made the team.

Anoka-Ramsey offers opportunity; opportunity with the best-looking community college and location in the state.

My experience in the Multicultural Club was awesome. There were so many students I met from all over the world. It was amazing. I thoroughly enjoyed the club as well as the many field trips we took including the one at the convention center, Festival of Nations."

Meet Sydney Sand

Sydney Sand

MnTC

Associate in Arts

"Anoka-Ramsey helped me to feel that I was not alone with my educational goals. The advisors ensure that you get an answer to every question. If you need any help, there are many places to find it."
Carousel Pagination