Profile - Linda Geller Axelrod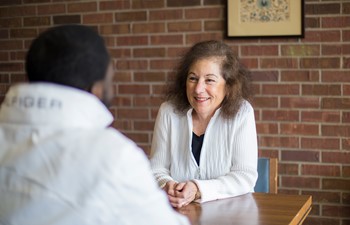 Instructor Profile
Meet Linda Geller Axelrod
Instructor of Business
Juris Doctorate (JD), Hamline University School of Law (currently Mitchell Hamline School of Law); Bachelor of Arts (BA) in Journalism/Advertising, University of Minnesota
Question and Answer
Question

Teaching Statement

Answer

My goal as an instructor is to create an engaging and challenging learning environment in which students can gain relevant and practical information relating to the legal environment in which businesses function. As a licensed attorney, I remain current on the areas of law that I teach and try to bring real-life examples into the curriculum. I want my students to be successful and will do whatever I can to help them understand the material.

Question

What inspires you as a teacher?

Answer

I am inspired by students who are motivated to learn and by those who become excited and more confident in their ability when they grasp an unfamiliar concept for the first time.

Question

What makes your curriculum interesting or valuable?

Answer

The areas of law covered in my classes are relevant to students in both their personal and professional life. Topics that seem to be most thought-provoking include: discovering that there often is "no one right answer" to a legal issue; becoming aware that they may be liable for something in a document they signed, but did not read; and learning about how employment law impacts them as an employer or an employee.

Question

How would you describe what happens during one of your classes?

Answer

During one of my most successful classes, students are involved, interested and interacting with other students in discussions and able to connect their own experiences with what they are learning about the law and legal system.

Question

How do you think students describe your teaching?

Answer

The comments I hear most often from students describe my classes as very well-organized, easy to navigate and understand, pertinent and relevant. Students have referred to my teaching methods as engaging, challenging, interesting and interactive, and they appreciate the quick feedback I provide on assignments and responses to questions.

Question

What are some ways that you help your students succeed?

Answer

I encourage students to contact me as soon as possible if they are struggling. I am happy to meet with anyone who needs extra help. If their location prohibits meeting in person, I will work with them by email or phone, and can also direct them to other sources to further explain the area in which they need additional help.

Question

How do you help your students get the most out of your classes?

Answer

I have created my online courses from the perspective of students who may be unfamiliar with D2L. I have designed them to be easily navigable, with content that is easy to find and includes clearly defined expectations. By incorporating videos that depict various legal issues, students learn how to analyze and resolve relevant issues. Students also have opportunities to learn the material through different methods, helping to make for a more interesting and interactive class.
Fun Facts
Fun Fact #1

My family takes an annual "MLB baseball adventure" every summer, and we have been to games at all but one of the 30 stadiums.

Fun Fact #2

I recently founded The Olivia and Howard Geller Foundation for Patient Safety, a non-profit foundation focused on the safety of hospital patients. During the COVID-19 pandemic the foundation purchased and delivered more than 250 WiFi-enabled tablets to hospitalized COVID-19 patients in Minnesota so they could communicate with their families when the "no visitor" policy was in effect.
Meet Our Students and Alumni
Student Carousel
Carousel Navigation
Carousel Slides
Meet Amy Anderson

Amy Anderson

Business

AS Marketing & Management

"In the Business program I learned so much more than just the skills that employers are looking for. I learned the ability to exceed employers' expectations as well as your own!"

Meet Porscha Sullivan

Porscha Sullivan

Business, Management & Administration

AS Business

"I chose Anoka-Ramsey because of the opportunities and the atmosphere. Whenever in doubt, don't hesitate to ask, because they care for your success as much as you do. You learn so much and the things learned and experienced can be taken with you, and added to your portfolio."

Meet Cassandra Bauer

Cassandra Bauer

MnTC

AA & Business

"Anyone of any age wanting to go to college to pursue a degree or general education can come to Anoka-Ramsey and expect a great education and a great time.

When you apply for a scholarship, you will likely get one. I received two scholarships my freshman year: The Otto Bremer Scholarship for $1,500 and the Presidential Scholarship for $3,000."
Carousel Pagination