Workforce Development Scholarships available to new students seeking in-demand careers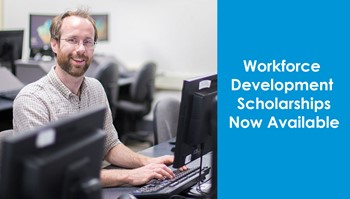 July 10, 2019
Made possible by a $7 million appropriation from the Minnesota State Legislature, Anoka-Ramsey Community College has a limited number of $2,500 Workforce Development Scholarships available for students seeking a certificate, diploma or degree in Business Office Technology, Computer Networking and Telecommunications, Computer Programming, Computer Science, Network Administration, Nursing, Physical Therapy Assistant, Pharmacy Technician, or System Administration
The scholarships hope to attract workers to in-demand careers in advanced manufacturing, agriculture, health care, early childhood education, information technology and transportation.
Anoka-Ramsey was proud to be part of the pilot program last year and hopes to support even more students in their pursuit of a career technical education in the 2019-2020 academic year.
To be considered, students must be new to Anoka-Ramsey (beginning fall 2019) or recipients of a 2018-2019 Workforce Development Scholarship and enrolled in a minimum of 9 credits each semester and maintaining a 2.0 GPA.
The deadline to apply for fall 2019 is August 30, 2019. But students are encouraged to register and apply early; scholarships will be awarded based off of eligibility on a first-come, first-serve basis until all of the funds are allocated.
For more information on how to apply visit the scholarships page.
In addition to funds available through Workforce Development Scholarships, many other scholarships are available to new and returning students throughout the year.
Supplementary Information
Recent News

Anoka-Ramsey In The News

Contact Us

Marketing & Public Relations

Media Relations Contacts: Mary Jacobson & Fia Prpic