Psychology instructor receives Fulbright U.S. Scholar award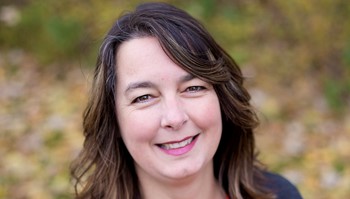 November 02, 2018
Laurie Wolfe, an Anoka-Ramsey Community College Psychology instructor, has received a Fulbright U.S. Scholar Award to provide educational aid in Uzbekistan and develop coursework relating to stress management and positive psychology.
Wolfe participated in a year-long application process, during which an applicant can select up to three potential host sites. "Central Asia is a part of the world with a rich and deep history," said Wolfe, "but most Americans are unfamiliar with this region, including myself. I chose Uzbekistan because I wanted to learn more about their culture."
"Uzbekistan has recently become more open to westerners," said Wolfe. "I was interested in going to a country that is actively working on developing their education system. In the last 18 months, under a new prime minister, Uzbekistan has opened up to visiting scholars and collaborations on education."
One of two scholars in Uzbekistan in the 2018–2019 academic year, Wolfe's grant is for five month period that will begin in January 2019. She had originally intended to work with the Uzbek university system to assist with faculty development however, during a video conference with the Ministry of Education, Wolfe was asked to assist in creating resources for K-12 teachers to reduce stress and improve the psychological well-being of their students. Since she will only be in Uzbekistan for five months, her project will be piloted in four of the public high schools in the capital city of Tashkent. Wolfe will work with Ministry of Education officials and the school psychologists to create a positive psychology and stress management curriculum for both teachers and students. If successful, the project will be expanded to all public schools in Uzbekistan.
"The ultimate goal is to reduce teacher burnout and increase the psychological well-being of students and teachers," said Wolfe. "It is exciting to be involved in a project that has the potential to improve the psychological health of teachers and students across the entire country."
About the Fulbright Program
Since its establishment in 1946 under legislation introduced by the late U.S. Senator J. William Fulbright of Arkansas, the Fulbright Program has provided more than 380,000 students, scholars, teachers, artists and scientists the opportunity to study, teach and conduct research, exchange ideas and contribute to finding solutions to shared international concerns.
Fulbright scholars address critical global in all disciplines, while building relationships, knowledge, and leadership in support of the long-term interests of the United States. Fulbright alumni have achieved distinction in many fields. Fifty-nine have been awarded the Nobel Prize, 82 have received Pulitzer Prizes and 37 have served as a head of state or government.
For more information about Fulbright Program, visit http://eca.state.gov/fulbright
Supplementary Information
Recent News

Anoka-Ramsey In The News

Contact Us

Marketing & Public Relations

Media Relations Contacts: Mary McCarthy