Instructor selected to receive Minnesota State Arts Board grant for 'Paul'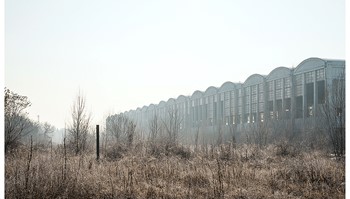 January 30, 2018
Anoka-Ramsey Community College Art Instructor Anthony Marchetti was awarded a 2018 Minnesota State Arts Board Artist Initiative grant to complete his work on a photography project entitled "Paul."
Marchetti, who teaches Photography at Anoka-Ramsey, has been working since 2013 on the project, which explores the life of a man who immigrated to the U.S. from Europe at the end of World War II. The $10,000 grant will help fund the completion and production of the finished product.
"Paul was a person who has affected my life, but he's never met my family," said Marchetti. "He was engaged to my maternal grandmother. Together, they fled Hungary at the end of the World War II, when the Russians came in. From a displaced persons camp, they left to come to the U.S. When she got to the states, she and Paul never saw each other again."
Though Marchetti does not know much about "Paul," he is fascinated by the history and the connections that he may have formed during his life. The photography project has significance culturally, historically and in Marchetti's own family, where this lost family connection left a large impression. The project is largely based on his maternal grandmother's memories and her experience following World War II.
"With this project, I'm trying to use photography as a storytelling device," said Marchetti. "I'm using some of the things that are based in fact, such as pieces I find, small objects related to his life, or things I learn about Paul. Photography is something that can kind of help fill in the gaps, and tell a larger story about this interesting man."
Marchetti is interested in photojournalism and documentary work as an art form. To conduct research and create photos for his project, he traveled overseas to study the way of life in Hungary. While he was abroad, he captured the culture and characteristics of Hungarian men on camera, so he could incorporate them into the project.
The first gallery exhibit of "Paul" will open in August 2018, when it debuts at the Johnson Gallery at Bethel University. Marchetti also plans to collaborate with the International Institute of Minnesota to exhibit the finished work.
This is not the first time the Anoka-Ramsey instructor has been honored for his work. Marchetti was awarded the Minnesota State Arts Board in 2016, 2012, and 2010 – often related to the "Paul" project. He is also a past recipient of the Fulbright Fellowship, the McKnight Photography Fellowship, and the Jerome Travel and Study Grant. His photography has appeared in many galleries and museums, including the Weisman Art Museum and the Minneapolis Institute of Arts, and his photos have been featured in many major publications including the New York Times.
"We have a really active Art Department at Anoka-Ramsey," said Marchetti. "The instructors are all practicing artists. We are producing and exhibiting our own work, and we're all bringing that experience from the field into the classroom."
Pictured above is a photograph from the project "Paul," taken by Art Instructor Anthony Marchetti.
Supplementary Information
Recent News

Anoka-Ramsey In The News

Contact Us

Marketing & Public Relations

Media Relations Contacts: Mary Jacobson & Fia Prpic