Instructor selected for NEH Summer Institute: Challenges of Teaching World Religions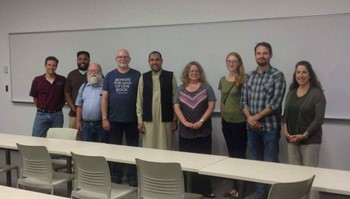 September 20, 2017
Anoka-Ramsey Community College Instructor Kristin Doneen, Ph.D., was selected to participate in a National Endowment for the Humanities (NEH) Summer Institute. A four-week institute, the Challenges of Teaching World Religions was held at Macalester College in St. Paul, Minn., from July 9 to Aug. 4, 2017.
Professor James W. Laine directed the institute, after he was awarded funds for his proposal to hold a workshop to address the concerns of teaching survey courses that introduce students to the major religious traditions of the world. Laine is the Arnold Lowe Professor and Chair of Religious Studies at Macalester College and the author of MetaReligion: Religion and Power in World History.
The NEH Summer Institute was designed to address the central question of how educators can responsibly teach a survey course on the religious traditions of the world. According to the institute website, there are at least two different approaches educators can take. They may teach broad literacy and a basic understanding of world religions, or they may take a more nuanced approach to avoid reducing religions to a few simple principals and doctrinal elements.
The institute facilitated debates on the broad use of the term "religion" in an effort to draw out the complexities of religious traditions, as a subset of a whole.
"I was honored to be selected to participate in the institute, and I was proud to see we were well-represented, with several faculty from Minnesota," said Doneen. "It was a very diverse group, but it was the diversity of disciplines that really surprised me."
The institute brought together instructors from many states and many religious or cultural identities. In addition to many professors who specialize in teaching religions, the disciplines represented ranged from languages and philosophy to economics. There were participants from private and public universities, as well as two-year and four-year colleges.
During the institute, educators had the opportunity to visit mosques, Buddhist temples, a Hindu temple, and sacred sites of the Dakota American Indians. Each participant also read and studied texts on religion education, engaged in group discussions and delved into a research project of their own choosing.
"We took a look at the way religions have been portrayed artistically in our history, the way these religious traditions were studied by scholars, and the way symbolism and religious pluralism evolved over time," said Doneen.
She said it's particularly important in teaching world religions to be aware of the perceptions of different religions, as well as your own perspective. One area that she has taken an interest in, which she hopes to conduct further research on, is the American Spirituality Movement, where people self-identify as being "spiritual," but not "religious."  
"There's no word for 'religion' in Sanskrit," said Doneen, referring to ancient language from India. "The boundaries that we perceive today are not that distinct, and we have to remember that religions often develop out of each other."  
The four-week institute featured lectures by visiting faculty, including Tomoko Masuzawa, professor of history and comparative literature at the University of Michigan; Donald Lopez, Jr., professor of Tibetan and Buddhist studies at the University of Michigan; Michael McNally, professor of religion at Carleton College, and Carl Ernst, distinguished professor of religion at the University of North Carolina-Chapel Hill.
Several faculty from Minnesota were selected to participate in the NEH Summer Institute. On one evening, they invited Abdul Dardery, Ph.D., an adjunct instructor at Anoka-Ramsey Community College, to speak. He teaches a course called Introduction to Islam & Culture, and next semester, he will offer a course called Introduction to Diversity Studies.  
Dardery – whose lectures include appearances at the University of Pittsburgh, Harvard University and other universities – encouraged dialogue and questions during his evening talk.  
"I do all I can to build bridges of understanding," said Dardery.  "There was a serious dialogue, with tough questions and engaging discussion."
He said colleges have to work harder to teach not only the differences between major world religions, but also the similarities.
"We did address Islam, not only as a religion, but also as a culture, and also as a political movement," said Dardery. "There is a lot of misunderstanding. There is a lot of stereotype. Ignorance or misunderstanding in our perception leads to stereotype. Stereotype leads directly to hate. Hate ends in violence. We have to stand against all forms of hate and all forms of stereotype."
The faculty attending the institute came away with a lot of new ideas and tools for teaching world religions. They offered one another advice and support, forming strategies to bring the subject to college students in rapidly changing times.
"The main take-away was about deepening the education around the development of each tradition, and recognizing the nuances in our critique of this concept of religion," said Doneen.
Doneen said the goal is not to teach students that one religion is better than another, but instead to allow them to engage with the academic materials on culture and religion in a way that opens their minds. Dardery echoed the sentiment, adding that it's important to approach the subject with an appreciation for diversity and religious tolerance. 
"Always be willing to listen to the inner perspective of one another," said Dardery.
For more information about the NEH Summer Institute, visit https://www.macalester.edu/academics/religiousstudies/institute/.
Supplementary Information
Recent News

Anoka-Ramsey In The News

Contact Us

Marketing & Public Relations

Media Relations Contacts: Mary McCarthy