Governor Walz Visits Anoka-Ramsey; Proposes Investment in Minnesota Higher Education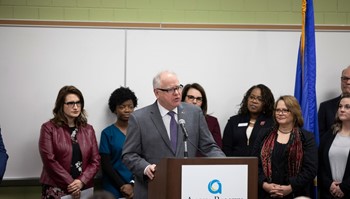 January 13, 2020
Gov. Tim Walz and Lt. Gov. Peggy Flanagan joined Minnesota State Commissioners and presidents of several Minnesota colleges and universities from across the state at Anoka-Ramsey Community College Monday, Jan. 13 to announce a proposed $488 million investment in higher education in Minnesota.
The proposal, which would commit $16 million to Anoka-Ramsey's Coon Rapids Campus for renovations and facilities updates for its Business and Nursing programs, is designed to help the state meet the demands of both current students and a modern workforce.
In 2018, Anoka-Ramsey received funding for the design of the Business and Nursing renovation. Full funding of the project will modernize, enhance and repurpose classrooms and labs to increase enrollment. It will also provide flexible learning options and a welcoming, synergistic environment for one of the largest Nursing programs in Minnesota.
"The request will help move the college's strategic priorities forward and support effective teaching and learning," said Kent Hanson, president of Anoka-Ramsey.
Temitope Shosanya, a second-year student in Anoka-Ramsey's Nursing Program, praised her experience in the program and her instructors for their commitment to student success.

"Unfortunately, our facilities are not as useful," she said. "The Nursing lab is small and can easily become overcrowded, which impacts every student in the Nursing program.
Hopefully, with funding, we'll be able to fix these issues and give incoming students an even better experience than I had," Shosanya said.
As a member of the Minnesota State system, Anoka-Ramsey's funding request is one of several projects currently under consideration in the 2020 legislative session. The larger system proposal includes $142.5 million for asset preservation and $121.2 million for capital bonding projects at the colleges and universities of Minnesota State. Minnesota State Chancellor Devinder Malhorta praised the governor's proposal.
Read more about Gov. Tim Walz's proposed higher education investment for the 2020 Legislative session.
View additional photos from the Anoka-Ramsey event. 
Gov. Tim Walz tours Anoka-Ramsey Nursing Department facilities, addresses media questions.
Supplementary Information
Recent News

Anoka-Ramsey In The News

Contact Us

Marketing & Public Relations

Media Relations Contacts: Mary Jacobson & Fia Prpic