Education that travels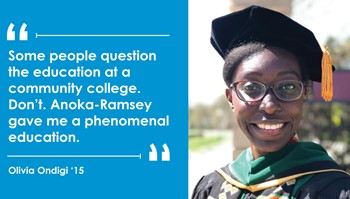 July 14, 2020
Though she was born in Minnesota, Olivia Ondigi's parents returned to their home country of Kenya when she was four years old. Applying to U.S. universities from abroad was a daunting task, so Olivia moved back to Minnesota to stay with an aunt in Blaine for college.
Her decision to attend Anoka-Ramsey Community College was based on location and cost. Her first day in fall 2011 was rough. She got lost and sat through about 10 minutes of class before she realized it wasn't the General Physics class she enrolled in. Thankfully, things got better fast. Olivia's instructors saw her academic strength and recommended her as a peer tutor in the Tutoring Center. Soon after, Olivia was getting kudos from the students she helped in Biology, Chemistry and Physics.
Along the way, she narrowed her desire for a health care career to focus on medicine and realized that research experience was vital to this path. She reached out to Anoka-Ramsey faculty, Dr. Paula Croonquist, who established a research partnership between the University of Minnesota (U of M) and Anoka-Ramsey. Olivia cites Croonquist's assistance crucial in securing the research project that Olivia completed in the summer of 2014.
Graduating with an Associate of Science (AS) in Biology degree from Anoka-Ramsey in 2015 Olivia continued her studies at the U of M, earning a Bachelor of Science (BS) in Biology degree. She graduated from medical school with the class of 2020.
With her medical degree in hand, Olivia is packing her bags again. Not to leave the country but rather to begin her three-year, Internal Medicine residency at the University of Virginia. 
"I highly recommend community college," Dr. Olivia Ondigi says. "Some people question the education at a community college. Don't. Anoka-Ramsey gave me a phenomenal education. That, along with the right mentors and putting in the work, and you can go anywhere."
Supplementary Information
Recent News

Anoka-Ramsey In The News

Contact Us

Marketing & Public Relations

Media Relations Contacts: Mary Jacobson & Fia Prpic