Commentary: Exceptional Women in STEM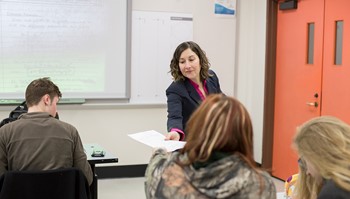 April 05, 2017
By Nina Bohrod, Anoka-Ramsey Math instructor
The movie Hidden Figures that features the true story of a team of African-American female mathematicians who served a vital role in the early days of the NASA space program points out a lingering issue—the lack of representation of women in science, technology, engineering, and math (STEM) fields. While women in STEM have come a long way, we are hardly at the finish line. Women in engineering, physics and computer science are particularly less represented in proportion to their numbers than in the other STEM fields.
According to the 2016 Society of Women Engineers workforce culture study, female engineers still account for less than 20 percent of the workforce and are more likely to leave the profession than are male engineers. 30 percent of female engineers cited "organizational climate" as the reason why they left the profession.
So, in 2017, why are we still seeing low numbers of women practicing engineering, computer programming and other STEM fields? There is still much debate about the reasons but many people point to three main causes: sex differences in ability, social and cultural biases and personal choice. There is some evidence that girls and boys differ in spatial abilities, particularly in solving problems that involve 3D rotations. However, with a short program of training and practice, girls can become as adept at this skill as are boys.
One of the recommendations to increase women's participation and interest in STEM fields is to provide role models. Through the STEM Chicks club at Anoka-Ramsey Community College, we are working hard to expose young girls to female mentors pursuing a STEM career.
Three exceptional women who were exposed to STEM careers and now play an intricate role in our STEM Chicks club are excelling just as well as their male peers. These women are the future of female representation in STEM and can change the narrative of what a STEM professional looks like.
A recent Biology transfer student, Diana Ngyuen has a unique experience of being a Nigerian-American woman pursuing medicine.
"When I told someone that I wanted to be a neuroscientist, which was my first major choice: they asked me why would I want to major in that, there's no black women that are doctors. I said I do know one: my mother, which makes being a doctor a reality for me," said Nguyen.
Nguyen has had to overcome numerous situations of microaggressions and at times has felt that if she got a question wrong in class it would negatively reflect on women of her similar identity.
According to the Merriam-Webster Dictionary, the microaggressions Nguyen refers to are, "a comment or action that subtly and often unconsciously or unintentionally expresses a prejudiced attitude toward a member of a marginalized group."
Nevertheless, Nguyen has persevered to complete her biology course-work at Anoka-Ramsey. She is now pre-med at the University of St. Thomas and intends to earn an M.D. in Pediatrics and a Ph.D. in Public Health.
Sarah Kamsin, a native of the South Sudan and raised Minnesotan, is pursuing her coursework in economics. After deciding on a career in economics, Kamsin faced similar challenges as Nguyen. She often felt under- or misrepresented in other universities she attended.
"I came to Anoka-Ramsey with the desire to pursue economics. Anoka-Ramsey has provided me with a cost-friendly and inclusive educational environment to complete my generals before applying to the University of Minnesota," said Kamsin.
Kristin Johnson, a soon-to-be graduate with an Associate in Science degree in Engineering, has a slightly different experience than Kamsin and Ngyuen. She is a Caucasian woman with four children.
"Being a non-traditional student (older with children) did present challenges for me, such as not being able to be at home as much with my young children," said Johnson. However, I was able to receive the state childcare grant though Anoka-Ramsey that allowed my husband and me to hire a nanny. I also received the Coon Rapids Foundation scholarship that made going back to school possible."
Along with being a non-traditional student, Johnson is often the only woman or one of very few women in her upper-level math and science classes. Johnson has had to prove herself and show her male classmates that, as a mechanical engineering student, she is just as capable as they are. 
These women are examples of how women can be just as, if not more, successful than their male counterparts. Women like Nguyen, Kamsin and Johnson set an example and expose upcoming generations to STEM and its concepts. These women advance the representation of women in STEM fields and bring to light the amazing achievements women can bring to STEM fields the will no longer be hidden figures.
Supplementary Information
Recent News

Anoka-Ramsey In The News

Contact Us

Marketing & Public Relations

Media Relations Contacts: Mary Jacobson & Fia Prpic