College hosts Fourth Annual OSCARS Event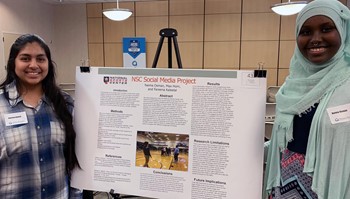 May 08, 2019
Anoka-Ramsey Community College hosted its fourth-annual celebration of undergraduate research, scholarship and creativity Wednesday, May 1 on the Coon Rapids Campus.
Sixty projects were shared by 104 students representing 11 academic departments during the OSCARS (Outstanding Scholarship, Creative Activities, and Research Symposium).
The OSCARS is intended to showcase the high-impact learning students engage in as a result of undergraduate research, project-based or service learning and scholarly/creative endeavors. Poster and oral presentations provided students a chance to showcase their knowledge and hard work in a wide array of disciplines to faculty, guests and retirees.
"In talking with my own students after the event, several of them mentioned how much they enjoyed talking with their instructors from other classes," said Kristen Genet, biology instructor at Anoka-Ramsey Coon Rapids campus and OSCARS coordinator. "It definitely was a significant experience for those students."
Below is the list of winning projects and presentations from the Coon Rapids event:
Creative Performance/Presentation:
1st place. Mika De Sousa: A Writer's Life, Students Share their Original Creative Writing, reading from "The Liar", ENGL 2281, Faculty Mentor: Kate Kysar
2nd Place. Zachary McLellan: The Irony of Love, ART 2200, Faculty Mentor: Rachel Breen
3rd Place. Daniel Harms: How Theophany Composes with Programmatic World Music, MUSC 2202, Faculty Mentor: Melissa Bergstrom
Social Sciences/Humanities:
Tied for 1st Place:
Noah Stockert: Helping the Hiawatha Homeless Camp, PHIL 1110, Faculty Mentor: Mo Janzen
Keeley Auld, Amanda Boyle, Sarah Kaplin and Carter Sanken: Rise Inc. and the Hiring of Direct Support Professionals: Finding the Right People for the Job, COMM 110, Concurrent Enrollment Instructor: Jennifer Prince (Spring Lake Park High School), ARCC Faculty Liason: Angie Anderson
Tied for 2nd Place:
Alexander Clark, Catherine Nguyen and Solange Vang: Infinite Campus: Researching Student Information Systems, COMM 110, Concurrent Enrollment Instructor: Jennifer Prince (Spring Lake Park High School), ARCC Faculty Liason: Angie Anderson
Sarah Jones, Dominic Morman, Bailey Rosdahl and Kathryn Skorykh: Readings in Religious Studies, PHIL 1115, Faculty Mentor: Kristin Doneen


 3rd Place. NorKhadijah Lindgren: Art for Yemen, PHIL 1110, Faculty Mentor: Mo Janzen
STEM/Health and Exercise Sciences:
1st place. Paige Hanson: Effects of Bait on Animal Attraction, BIOL 1110, Faculty Mentor: Jennifer Braido
2nd place. Andrew Bluth: Determining the Importance of Sex, Age, and Geographic Location on Scute Pair Fluctuating Asymmetry in Painted Turtles Chrysemys picta, BIOL 2230, Faculty Mentor: Kristen Genet
3rd place. Morgan Buhmann: Batrachochytrium dendrobatidis prevalence in Minnesota amphibians is species specific and influenced by time of year and location, BIOL 2230, Faculty Mentor: Kristen Genet
The Cambridge Campus of Anoka-Ramsey Community College hosted its OSCARS event on Wednesday, May 8. Below is the list of winning projects and presentations from the Cambridge event:
Creative Performance Projects:
1st Place. Axel Kylander: What I've Learned, Independent Study, Mentor: Ann Pelzel
2nd Place. Tonina-Lee Deloch, Jill Boros and Mackenzie Wilson: The Glass Menagerie Re-imagined, ENGL 2202 Introduction to Literary Studies, Mentor: Kate Maurer
Social Science/Humanities:
Tied for 1st Place:
Tianna Forbes and Aja Lener: The Link between Violent Video Games and Jail Time with the Male Population, PSYC 2260 Social Psychology, Mentor: Ann Pelzel
Victoria Quaintance Theel, Jake Hegerstrom, Jonah Laurich, Isaiah Brindamour and Abby Shogren: The Effect of Position on Upward and Downward Communication in Various Workplaces, CMST 1110 Introduction to Communication, Mentor: Angie Anderson
STEM
1st Place. Madison Irons: Water Quality Influences and Variances of the Borderline-Impaired Fannie Chain of Lakes in Minnesota, BIOL 2230 Directed Research in Biology, Mentor: Melanie Waite-Altringer
2nd Place. Brooklyn Underhill, Rachel Johnson, Gerald Mager and Zacharie Ziniel: Equilibrium changes using Varying pH Concentrations, CHEM 1062 Principles of Chemistry, Mentor: Andrew Aspaas
For more information about undergraduate research at Anoka-Ramsey Community College, visit: AnokaRamsey.edu/academics/academic-initiatives/undergraduate-research/
Supplementary Information
Recent News

Anoka-Ramsey In The News

Contact Us

Marketing & Public Relations

Media Relations Contacts: Mary McCarthy