College Art Department hosts alumni exhibition March 24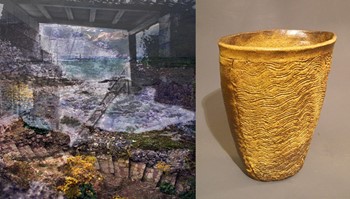 March 15, 2016
Join Anoka-Ramsey Community College Art Department for the opening reception of:

1st Annual Art Department Alumni Exhibition
Opening Reception
Thursday, March 24
6 to 8 pm
Coon Rapids Campus Visual Art Center
Public invited. Refreshments will be served.

The exhibition, running through April 23, showcases 36 former students who attended Anoka-Ramsey from 1985-2015 with works ranging from glass to printmaking, silver photography to digital imaging, painting, drawing to ceramics and various sculptural approaches. The exhibition also highlights the unique art facilities offered at Anoka-Ramsey.

The alumni have fond memories of their time at Anoka-Ramsey and are thrilled to be invited back for this showing.

"Anoka-Ramsey has a tremendous foundational curriculum that inspired me and drove me to pursue art as a career," said former student Austin Eckstrom. "I wouldn't trade my years here for anything."

"I attended Anoka-Ramsey Community College to get my first two-years completed of a four-year degree. My intent was to transfer to the University of Minnesota's Carlson School of Management; that was until I walked into Laura Migliorino's painting class," said Shirl Chouinard. "From that moment on I knew art was where my soul came alive, and I never looked back."

List of alumni artists:
| | | | |
| --- | --- | --- | --- |
| Philip Anderson | Stephen Edstrom | Jeannine Spooner Kitzhaber | Heather Oxendale |
| Austin Applequist | Kevin Eldstrom | Jenna Kornberg | Christopher Paris |
| Wesley Applequist | Heather Fine | Nancy Johnson | Arie Perry |
| Melissa Barron | Trisha Flaherty | Alli Luhmann | Gustin Schumacher |
| Aaron Becker | Adam Good | Mike Milam | Jes Lee Shimek |
| Misty Briesemeister | Abby Jean Goodell | Megan Monson | Skyler Snyder |
| Clayton J. Burns | Christopher Gray | Mayu Nagaoka | Pearl Vasseur |
| Shirl Chouinard | Kate Hellings | Blake Nelson | Erick Wiger |
| Austin Eckstrom | Anthony S. Hounder | Tom Nye | Xu Yang |

The Art Department faculty members have maintained relationships with many alumni and look forward to future alumni exhibitions.

"This alumni show is a testament to the amazing faculty, students and staff who have passed through the doors of this department," said Laura E. Migliorino, Art Faculty member.

For more information about the educational activities at Anoka-Ramsey Community College, visit AnokaRamsey.edu.
Supplementary Information
Recent News

Anoka-Ramsey In The News

Contact Us

Marketing & Public Relations

Media Relations Contacts: Mary McCarthy