Anoka-Ramsey Named Hunger Free Campus by LeadMN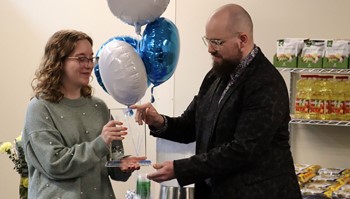 April 21, 2023
Anoka-Ramsey Community College welcomed LeadMN and community leaders to its Coon Rapids campus to celebrate its designation as a Hunger Free Campus, Wednesday April 19. 
About LeadMN's Hunger Free Campus Designation
A Hunger Free Campus is a Minnesota State community and/or technical college that is actively taking strides to reduce food insecurity amongst students. To be awarded the Hunger Free Campus designation, a campus must meet the following minimum criteria:
Have a food pantry, partnership with a food bank, or some type of food distribution system on campus available to students.
Have a designated staff person on campus to educate students on SNAP and other public services aimed to reduce food insecurity.
Provide emergency funds to assist students who may be experiencing basic needs insecurity.
Have a taskforce dedicated to addressing food insecurity concerns.
Host or participates in at least one hunger awareness event each year.
About Anoka-Ramsey's Campus Food Pantry
"Our food pantry is open to all students with no questions asked," says Joyce Traczyk, Coordinator of Student Engagement & Activities at Anoka-Ramsey's Coon Rapids Campus. "Over 37% of college students have experienced food insecurity, meaning they do not have a steady source of food or cannot afford to feed themselves or their families. It is our goal that with our partnership with HOPE for the Community, Anoka-Ramsey Community College will be a hunger-free campus."
Anoka-Ramsey's Food Pantry is provided in partnership with 501(c)(3) nonprofit organization HOPE for the Community. HOPE for the Community is supported by Second Harvest Heartland, a local nonprofit hunger-relief organization.
Supplementary Information
Recent News

Anoka-Ramsey In The News

Contact Us

Marketing & Public Relations

Media Relations Contacts: Mary McCarthy