Anoka-Ramsey Community College Two Rivers Reading Series presents poet Michael Torres Wednesday, Nov. 3, 2021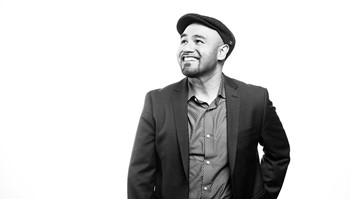 October 13, 2021
Anoka-Ramsey Community College's Two Rivers Reading Series welcomes poet Michael Torres for a reading and interview on Wednesday, Nov. 3, 2021, at 2 pm via a live Zoom event. Anoka-Ramsey English Professor Paige Riehl will interview Torres about his award-winning book of poetry, "An Incomplete List of Names" a National Poetry Series Winner.  
Event Information
Anoka-Ramsey Community College Presents
the Two Rivers Reading Series with Poet Michael Torres
Wednesday, Nov. 3, 2021
2 to 3 pm via Zoom
The event is free and open to the public
With limited virtual capacity, event webinar link/information will be available at tworiversarcc.wordpress.com closer to the event date.
"An Incomplete List of Names" is Michael Torres's riveting and relevant debut poetry collection. Author Mary Szybist said, "Absence doesn't simply haunt Michael Torres's poems: it blazes through them. . . . Torres is an exhilarating writer, a virtuoso who lets us hear what language can erase and create—while making it sing." Published by Beacon Press in 2020, "An Incomplete List of Names", was selected by Raquel Salas Rivera for the National Poetry Series and named one of NPR's Best Books of 2020.
Michael Torres was born and raised in Pomona, California where he spent his adolescence as a graffiti artist. His honors include awards and support from the National Endowment for the Arts, the McKnight Foundation, the Bread Loaf Writers' Conference, CantoMundo, VONA Voices, the Minnesota State Arts Board, the Jerome Foundation, the Camargo Foundation, and the Loft Literary Center. Currently, he's an Assistant Professor in the MFA program at Minnesota State University, Mankato, and a teaching artist with the Minnesota Prison Writing Workshop. Visit him at: michaeltorreswriter.com.
The event, which is supported by the college's English Department, is free and open to the public. Two Rivers Reading Series Chair and English Faculty Paige Riehl said, "Torres is a poet whose layered poems explore the complexities of identity, culture, masculinity in compelling and memorable language. We are excited to offer this free event to our students and the public."  For more information and a link to the webinar visit the Two Rivers Reading Series website at tworiversarcc.wordpress.com. 
During the 2019-2020 academic year, the Two Rivers Reading Series celebrated 20 years of bringing acclaimed, award-winning authors, poets and playwrights to Anoka-Ramsey each semester. The series events strive to make learning more comprehensive by combining classwork with real-world experiences, as students study the authors' work in their English courses.
For more information about the English Department at Anoka-Ramsey Community College, visit: AnokaRamsey.edu/english
Supplementary Information
Recent News

Anoka-Ramsey In The News

Contact Us

Marketing & Public Relations

Media Relations Contacts: Mary Jacobson & Fia Prpic