Anoka-Ramsey Community College re-opens Business and Nursing Building after renovations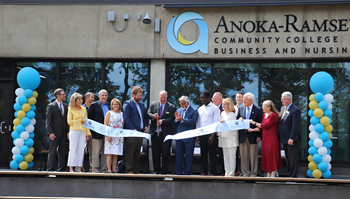 August 11, 2022
Anoka-Ramsey Community College re-opened its modernized and renovated Business and Nursing facilities on Thursday, August 11, 2022 with a ribbon-cutting ceremony.
The 31,150 square-foot renovation provides a state-of-the-art home for our business program, addresses unique learning needs for our nursing program and provides our campus community contemporary academic and social spaces. The event featured remarks from legislators, campus and Minnesota State leadership and students.
"This space will be transformative for our students form many years to come," Anoka-Ramsey Vice President of Administration and Finance Don Lewis said.
The $16.3 million renovation project was funded through Minnesota State's 2020 legislative session bonding request providing impact beyond Anoka-Ramsey's campus. This project would not be possible without the support of local legislators and strength of partnership with Minnesota State.
"This is an exciting day for Anoka-Ramsey Community College, the Twin Cities community and the state of Minnesota. This new space will allow us to provide our students the education they need to become leaders of the future in their industries," said Kent Hanson, president of Anoka-Ramsey Community College. "Learning environments really do matter."
Building highlights include:
Support for Nursing program, the second largest in the state, with updated facilities that accommodate contemporary curriculum, with an emphasis on the importance of simulation (SIM) and skills labs
Improvements to the quality of teaching and learning for business students with collaborative classroom environments, establishing more hands-on learning spaces and enable the college to expand offerings with our four-year university partners
Providing entire campus community with flexible learning and gathering spaces
Contributions to Anoka-Ramsey's commitment to sustainability, diverting 90 percent of construction waste from landfills, meeting Minnesota's B3 energy efficiency building standards and exceeding SB 2030 energy goals
Learn more about the project and impacts on our students, community and the state's workforce here. 
Supplementary Information
Recent News

Anoka-Ramsey In The News

Contact Us

Marketing & Public Relations

Media Relations Contacts: Mary Jacobson & Tiffany Clements