Anoka-Ramsey Community College honors distinguished faculty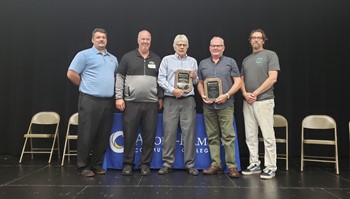 August 23, 2023
In a ceremony held Aug. 17 on the Cambridge Campus, Anoka-Ramsey Community College celebrated its most recent Distinguished Faculty award recipients: Kathleen Hoffman and Brad Wold.
Conferral of Distinguished Faculty (emeritus) status signifies Anoka-Ramsey's recognition and appreciation of professional accomplishments and achievements, as well as extraordinary service to the college. Each recipient was nominated for this distinction by their colleagues in acknowledgement of their service to the college, the community, and the profession over the course of their careers.
About the 2023-24 Honorees
Kathleen Hoffman taught English and speech on the Cambridge Campus, specializing in developmental education, from 1996 to 2017. She was a two-time Golden Apple teaching award recipient and was active on many college committees, including the Honors Council, Student Life Committee, the Editorial Board for Spirit River Review, the Jack Kent Cooke Scholarship Committee, and MSCF. Most notably, Kathleen was instrumental in starting the Honors Program on the Cambridge Campus and served for many years as faculty advisor to Phi Theta Kappa. Under her guidance, the Cambridge chapter of Phi Theta Kappa won multiple Outstanding Chapter Awards and attended 17 international conventions. Kathleen was awarded the Regional Advisor of the Year in 2002, the Robert Guiles Distinguished Advisor Award in 2003, and the Continued Excellence Award in Advising in 2004. She was especially proud of helping a Phi Theta Kappa student apply for and win a $30,000 academic scholarship awarded to just one student in the country each year, which allowed the student to pursue her career as a marine biologist in Hawaii. She also secured a Diana Hacker Grant to help fund the Academic Support Center on the Cambridge Campus. Kathleen had a gift for welcoming all students, especially first-generation and non-traditional students. She helped them find their voice and confidence, and many of her students continued to express their gratitude for her loving guidance long after graduation. She was active in her community garden and food shelf in Rush City and contributed artifacts from her father's career as a ship captain on the Great Lakes for a display for the Cambridge Community-Wide Read with Peter Geye's novel Safe from the Sea.
Brad Wold was hired in 1984 as only the second full-time instructor on the Cambridge campus. In the thirty-three years that followed, he taught general biology, plant biology, animal biology, microbiology, human anatomy, physiology, environmental science, chemistry, and astronomy. Working in learning communities with colleagues, Brad helped lead student trips to the Boundary Waters Canoe Area Wilderness, the Cloud Peak Wilderness Area in the Bighorn Mountains of Wyoming, and the Nobel Conference at Gustavus Adolphus for nearly twenty years. In 1987, he organized and hosted the first of many annual Science Nights, welcoming middle school and high school science instructors and other members of the community to our campus to learn from renowned speakers on a variety of topics in science. Drawing on his previous work with the U.S. Fish and Wildlife Service, Brad proposed and helped to plant the restored prairie that remains the signature of our Cambridge campus landscape. He also photographed and documented it extensively, the results of which can still be viewed on the college website today. Brad took on other roles to serve his colleagues and students, including MSCF president and vice president, organizer of a statewide meeting of biology instructors with the University of Minnesota College of Biological Sciences, PSEO mentor, volunteer and emcee at the annual Candlelight Ski event, and faculty advisor to the Hearts Ablaze student club. Still living in Cambridge, Brad remains active in his church and at a local thrift shop, which gives 100% of its proceeds back to community members in need and has always considered himself an ambassador of ARCC.
Supplementary Information
Recent News

Anoka-Ramsey In The News

Contact Us

Marketing & Public Relations

Media Relations Contacts: Mary McCarthy