Anoka-Ramsey Community College breaks ground on Nursing and Business building renovation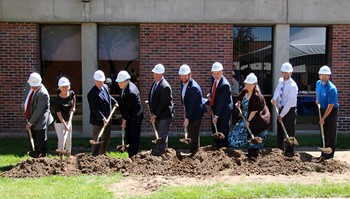 May 27, 2021
Wednesday, May 26, 2021 Anoka-Ramsey Community College leadership and program faculty met with local legislators and supporters to officially kick-off the renovation of the college's Business and Nursing building at a ceremonial groundbreaking event.
A project years in the making marks a significant investment in both higher education and Minnesota's workforce. It is scheduled to be completed in the summer of 2022. 
Project team and supporters prepare for ceremonial groundbreaking of Anoka-Ramsey Community College's Business and Nursing building renovation. Left to right: Anoka-Ramsey Facilities Director Ken Karr, Anoka-Ramsey Business Instructor Susan Eyre, Anoka-Ramsey Vice President of Administration and Finance Don Lewis, Senator Jerry Newton, Anoka-Ramsey President Kent Hanson, Representative Zack Stephenson, Minnesota State Vice Chancellor for Finance and Facilities Bill Maki, Anoka-Ramsey Dean of Nursing and Allied Health Sandra Kohler, Leo A Daly Senior Architect Adam Luckhardt, Anoka-Ramsey Interim Vice President of Academic and Student Affairs Steve Crittenden.
"This project will be an important asset to the college as we prepare the workforce for tomorrow," said Don Lewis, vice president of administration and finance at Anoka-Ramsey.
A space for students with statewide impact on education, health and economy
The $16.3 million project was funded through Minnesota State's 2020 legislative session bonding request providing impact beyond Anoka-Ramsey's campus.
The new facility on campus will:
accommodate an expanding Nursing program, the second-largest in the state, with updated facilities that meet the needs of current training.
enable the nursing curriculum to be supported by the physical spaces needed to educate contemporary Nursing students to meet the needs of the ever-expanding workforce. This includes an emphasis on the importance of simulation (SIM) labs.
allow active learning of skills and the application of nursing theory that are needed to be successful in the health care industry.
significantly improve the quality of teaching and learning for our business students by creating collaborative classroom environments, establishing more hands-on learning spaces and enable the college to expand offerings with our four-year university partners.
improve energy efficiency and contribute to Anoka-Ramsey's commitment to sustainability.
"Educating students from diverse backgrounds, in facilities that promote active learning, allow safe practice of skills in an educational setting, and provide the opportunity for a variety of simulation activities to apply learned skills is essential to health care in this state," said Sandy Kohler, Dean of Nursing. "It is also essential to meeting the educational needs of our diverse students."
"This is a great day. It's a celebration and it's a move forward to improve both our education and health disparities in the state," said Kohler.
This project would not be possible without the support of local legislators and strength of partnership with Minnesota State.
During his remarks at the event, Lewis shared thanks to the numerous people that contributed to the project to date including students, leadership from Minnesota State, Anoka-Ramsey faculty and staff, the architecture team from Leo A Daly, Ebert Construction and local legislators.  
"A number of people have worked for many hours and some for many years to make this project a reality. We would like to extend our thanks and appreciation to Chancellor Malhotra and Vice Chancellor Maki from our Minnesota State system office for their support," said Lewis.
"Our extreme thanks and appreciation also goes to Representative Zack Stephenson and Senator Jerry Newton for all for your help and your tenacity," said Lewis.
---
To hear the full remarks watch the groundbreaking event recording here.
Learn more about the project and impacts on our students, community and the state's workforce here.
Supplementary Information
Recent News

Anoka-Ramsey In The News

Contact Us

Marketing & Public Relations

Media Relations Contacts: Mary Jacobson & Fia Prpic