Anoka-Ramsey Community College and St. Cloud State University's Herberger Business School offer new bachelor's degree partnership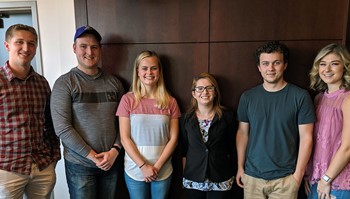 September 30, 2019
Beginning in the fall semester of this year, Anoka-Ramsey Community College Business students were offered a new opportunity to continue their education on campus.
In partnership with St. Cloud State University and the Herberger Business School, Anoka-Ramsey students can earn a Bachelor of Science degree in General Business with the options of a certificate in Professional Selling right from the Coon Rapids Campus.
"The college's strategic plan is embedded with a commitment to quality education and student success," said Kent Hanson, president of Anoka-Ramsey. "This partnership exemplifies all of our goals and provides a clear pathway for student success through a bachelor's degree."
Anoka-Ramsey President Kent Hanson and St. Cloud State President Robbyn Wacker addressed leadership, faculty, staff and students at a partnership kick-off celebration on the Anoka-Ramsey Coon Rapids Campus on Thursday, Sept. 19. 
Overall, this partnership allows the colleges to be more engaged in the community, it's convenient for students and is a proactive way to bring access to education to students with barriers to going away for college.
"What I hear over and over from our partners in the community is that they need colleges and universities to engage in partnerships that are going to help local communities and businesses meet workforce needs," said Robbyn Wacker, president of St. Cloud State.
The first class of students might be small, with only six participants, but excitement is building as word spreads about the program.
Students in the first class of the St. Cloud State Business degree partnership program. 
Tayllor Steinmetz is one of the first students to enroll in the program this fall. She started at Anoka-Ramsey as a transfer student from St. Kate's where she was going to school to be a nurse. "Anoka-Ramsey helped me find what I was passionate about," said Steinmetz. "Something just wasn't clicking, I took a business ethics class and it sold it for me, business was where I needed to go."
As soon as the opportunity with St. Cloud State presented itself, Steinmetz knew she had to take it. "I remember the exact moment that I was sitting in my advisor's office at Anoka-Ramsey and we were reviewing my transfer pathway when she reached out to me with this new opportunity, I haven't been more excited about being part of a program than I am right now."
Learn more about the bachelor's degree in General Business and partnership with St. Cloud State University.
Supplementary Information
Recent News

Anoka-Ramsey In The News

Contact Us

Marketing & Public Relations

Media Relations Contacts: Mary McCarthy