A path out of poverty and platform for change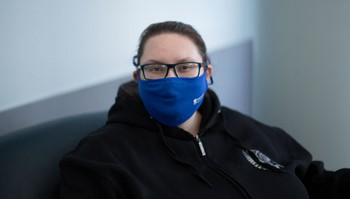 February 25, 2021
Two years ago when Angela Krieger '23 started at Anoka-Ramsey Community College, you could often find her on the Cambridge Campus in class, working, studying with friends or attending one of the day's student life events.
Angela came to the college to start in the Physical Therapy Assistant program after working several years as a resident care attendant in assisted living. While she navigated the early stages of college, considered career opportunities  and reflected on her background, Angela decided to change paths and work towards a certificate in Alcohol and Drug Counseling. 
"My dream is to connect with people who struggle with addiction and find a way to change the pandemic on that, because I do feel like there's a pandemic on that," said Angela.
Angela is a Native American, low-income student and has close family members that struggle with addiction. All those factors helped motivate her to look to secondary education and a career in counseling as a way to move forward. Angela sees education as a way out of poverty. Not just for herself but for others.
"I think, as somebody coming from a low-income family, that certain things are harder. At Anoka-Ramsey, I have had the ability to connect with others from diverse backgrounds," shared Angela. "I would like to encourage more low-income students to go to college, so they can get out of poverty."
As a student, Angela has noted that individuals with similar backgrounds and shared culture are not always obviously represented on campus. She has embraced the chances to get involved at the college in order to affect change. The community she's found and opportunities to be a  catalyst for change through the Student Senate have been Angela's favorite things about the college.
"I joined the Student Senate because I wanted to make change, I am passionate about social justice and making a change wherever I am," shared Angela. "I've been working on trying to educate other students in chats of diversity and just anything I'm in because a lot of people don't know much about the [Native American] culture and each tribe is different and each culture within Native American culture is different."
After graduation, Angela hopes to receive her bachelor's degree within five years but would like to have a job working in alcohol and drug therapy in a traveling setting if it's an option.
"If I can help somebody with my story, to help them start in secondary education, I am happy," said Angela, "I just want people to keep on going and keep trying."
---
If you are a  current student and interested in Student Senate and other leadership opportunities, visit anokaramsey.edu/campus-life/clubs-organizations. New membership applications for the Student Senate are due Friday, March 5, 2021.
If you are interested in learning more about becoming a student at Anoka-Ramsey, join the Admissions team at a Virtual Information Session held weekly throughout the month of March. RSVP at AnokaRamsey.edu/visit
Supplementary Information
Recent News

Anoka-Ramsey In The News

Contact Us

Marketing & Public Relations

Media Relations Contacts: Mary Jacobson & Fia Prpic