Profile - Justin Hand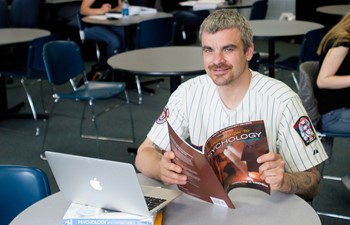 Student Profile
Meet Justin Hand
Psychology program
Question and Answer
Question

What originally brought you to Anoka-Ramsey?

Answer

What originally brought me to Anoka-Ramsey was the location and low-cost of tuition. It is place close to home that did not take up my whole time getting to and from school. It is a school that offers a great education at an affordable price. 

Question

Do you have any favorite instructors?

Answer

Ann Pelzel, Brad Wold, Jordan Ruble and Wendy Zins

Question

What is one thing you want people to know about the program you are enrolled in at Anoka-Ramsey?

Answer

TRIO is a great program that has given me opportunity to get more than just a free slice of pizza. I have had opportunities to better my study habits and learn things to help advance my desired career.
Fun Facts
Fast Fact #1

Justin's dream job is to be an addiction counselor.

Fast Fact #2

Justin plans to transfer to Concordia University to obtain a bachelor's degree in Psychology
Meet Our Students and Alumni
Student Carousel
Carousel Navigation
Carousel Slides
Meet Kirsten Kennedy

Kirsten Kennedy

MnTC

Associate in Arts

"It was so reassuring to know that if I have a question or need help, resources and counseling were always accessible. There were opportunities to participate in clubs and senate for every student. Most important to me was the access and ability to communicate with my instructors when I needed extra help or had a scheduling conflict."

Meet Shannon Glenn

Shannon Glenn

MnTC

AA Psychology Emphasis

"Education shapes the future. It is important for everyone to get an education so we have an educated workforce."

Meet Nick Ferraro

Nick Ferraro

MnTC

Associate in Arts

"I had absolutely no idea what I wanted to do with my life until I started taking Journalism classes at Anoka-Ramsey and writing for the school paper. The school's slogan at the time was, "Anoka-Ramsey: It's a Great Place to Start." I still truly believe that.

I excelled in the Journalism and English classes and that gave me the confidence to stay in school and on the right path.

Without the start I received Anoka-Ramsey, I probably would not have finished college. And, with the job market the way it is, a college degree is more important than ever."
Carousel Pagination