Profile - Laurie Wolfe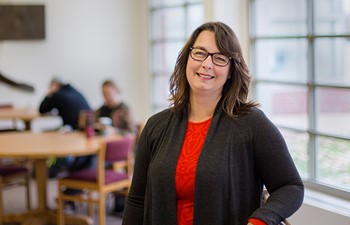 Instructor Profile
Meet Laurie Wolfe
Instructor of Psychology
Master of Science (MS) in School Psychology, Syracuse University; Bachelor of Arts (BA) in Psychology, College of St. Benedict; Registered Yoga Teacher (RYT-200), Yoga Alliance; Certified Ananda Meditation Teacher
Question and Answer
Question

Would you list some recent accomplishments?

Question

What is your approach to teaching?

Answer

In my classes, it is the responsibility of each student to accept the challenge of learning. I do not view my students as empty containers that I must fill with knowledge. Although it is my responsibility to provide the proper structure, atmosphere and resources for my students to maximize their learning, I cannot learn for them. They must actively participate in the learning process and be willing to work in order to gain knowledge. It is when students actively engage the material, teacher and each other that the educational relationship is most effective.

In order to encourage students to become active learners, I believe that the teacher must be actively engaged in the material. In class, I am energetic and enthusiastic not only because of my natural passion for the material itself but also because I believe that if I do not show enthusiasm for the material then it will be very unlikely that my students will. I value the ideas and opinions of the students in my courses. I encourage everyone to add his or her unique perspective to the course.

Question

What makes your curriculum interesting or valuable to students?

Answer

Psychology is one of the most easily applied subjects that a student can study. The concepts we discuss in class are directly applicable to our everyday lives. Students often relate the concepts we are discussing in class to things they are experiencing outside of the classroom.

Question

How do you think students describe your teaching methods and classes?

Answer

Because I believe that students learn by doing, I endeavor to create a truly interactive learning environment. I do not lecture to my classes; I share my knowledge in an interactive manner by using question and answer, small group activities and content-related games. For example, in Introductory Psychology when we cover problem-solving strategies, I put students into small groups and give them a variety of thought-problems and riddles to solve using different strategies covered in the textbook. This requires that students not only know the strategies but also use them to solve actual problems.
Fun Facts
Fun Fact #1

In addition to being a Psychology instructor, I am a registered yoga and meditation teacher. You can see fun yoga photos, inspiring quotes and yoga and meditation information on my yoga facebook page: https://www.facebook.com/yogasoles

Fun Fact #2

I love to travel. Some of my favorite trips include:

visiting ancient ruins in Rome, Athens and Ephesus, Turkey

going on a safari in the Serengeti

visiting Harry Potter World at Universal Park in Florida

Fun Fact #3

I enjoy kickboxing and play the trumpet in a community orchestra. I have also studied tae kwon do.
Meet Our Students and Alumni
Student Carousel
Carousel Navigation
Carousel Slides
Meet Kirsten Kennedy

Kirsten Kennedy

MnTC

Associate in Arts

"It was so reassuring to know that if I have a question or need help, resources and counseling were always accessible. There were opportunities to participate in clubs and senate for every student. Most important to me was the access and ability to communicate with my instructors when I needed extra help or had a scheduling conflict."

Meet Shannon Glenn

Shannon Glenn

MnTC

AA Psychology Emphasis

"Education shapes the future. It is important for everyone to get an education so we have an educated workforce."

Meet Nick Ferraro

Nick Ferraro

MnTC

Associate in Arts

"I had absolutely no idea what I wanted to do with my life until I started taking Journalism classes at Anoka-Ramsey and writing for the school paper. The school's slogan at the time was, "Anoka-Ramsey: It's a Great Place to Start." I still truly believe that.

I excelled in the Journalism and English classes and that gave me the confidence to stay in school and on the right path.

Without the start I received Anoka-Ramsey, I probably would not have finished college. And, with the job market the way it is, a college degree is more important than ever."
Carousel Pagination