Profile - Jim Biederman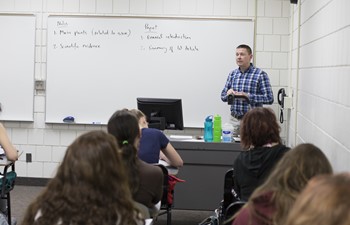 Instructor Profile
Meet Jim Biederman
Instructor of Psychology
Master of Arts (MA) in Clinical Psychology, Northern Illinois University
Question and Answer
Question

Would you list some recent accomplishments?

Answer

Golden Chalk Award, Phi Theta Kappa, 1996

Honored Faculty Member, Faculty Association, 2000

Outstanding Educator, MnSCU Board of Trustees, 2013

Question

What is your approach to teaching?

Answer

I'm very excited about the field of psychology, and I like to share that excitement with my students semester after semester. One of the things I like most about studying psychology is that you don't need to be a psychology major to make use of the information. We all deal with and use psychology in our every-day lives and careers. My classes tend to be information-heavy with a strong emphasis on understanding and applying information from good scientific research.

Question

What inspires you as a teacher?

Answer

Many people and events shaped my career in teaching and psychology. Mostly, it's been my experiences as a student myself and the influences of some great (and not-so-great) teachers along the way.

I think what inspires me most is the fascinating subject matter of psychology and the fact that I get to be the first person to introduce it to new students each semester.

Question

How would you describe what happens during one of your most successful classes?

Answer

An ideal class would probably start with me presenting some information that stimulates some excellent observations and questions in students, which then stimulates some very lively discussion. When everything is clicking in a class, it's amazing how student questions and discussion can naturally take us through the topic without me needing to lead the process every step of the way.

Question

What makes your curriculum interesting or valuable to students?

Answer

I think there are two really exceptional things about psychology: First, it's present in almost every aspect of our daily lives, so it's relevant. Second, it's a very lively and alive field with lots of unsettled questions and new discoveries. I think every topic in psychology is fascinating to some students, but that group of fascinated students changes from topic to topic. In my opinion, some of the more provocative topics are psychological disorders, the brain, and personality.

Question

How do you think students describe your teaching methods and classes?

Answer

Students would describe my teaching (both online and in the classroom) as pretty organized. I'm careful with my organization because I know what it feels like to feel lost in a poorly organized class. It's okay to get lost in the material, but a student should never feel lost in the mechanics of how the class is conducted. In my seated classes, I talk a lot, but I try to do it in a way that stimulates questions and discussion.

Question

What are some ways that you help students succeed when they need extra help?

Answer

First off, I always give students a lot of extra tools to use that help them succeed, like review sheets, study questions, practice tests, and online exercises. Students don't have to ask for extra help; I put these resources out there for all of them and encourage students to use them as much as possible. If students need help beyond that, I encourage to contact me personally (online or in person) to troubleshoot more individual problems and solutions.

Question

How do you help your students get the most out of your class?

Answer

As I tell my classes, I value every minute of class time, and I use almost every minute to help them learn the material. Every semester, I examine the relationship between attendance and performance, and every semester I find that students who attend class generally do better. I also try to supplement what we do in class with a lot of outside resources to maximize the benefits students get from outside studying.
Fun Facts
Fun Fact #1

I have several tattoos, probably more than you would guess, which goes to illustrate the saying, "You can't judge a book by its cover."

Fun Fact #2

I am a dog owner and very fond of dogs, but to my core, I am a cat person. Cats are fascinating creatures!

Fun Fact #3

I love to travel and almost always have two of three vacations planned at any given time. To me, travel is invigorating and consciousness-expanding, and I couldn't envision my life without it.
Meet Our Students and Alumni
Student Carousel
Carousel Navigation
Carousel Slides
Meet Kirsten Kennedy

Kirsten Kennedy

MnTC

Associate in Arts

"It was so reassuring to know that if I have a question or need help, resources and counseling were always accessible. There were opportunities to participate in clubs and senate for every student. Most important to me was the access and ability to communicate with my instructors when I needed extra help or had a scheduling conflict."

Meet Shannon Glenn

Shannon Glenn

MnTC

AA Psychology Emphasis

"Education shapes the future. It is important for everyone to get an education so we have an educated workforce."

Meet Nick Ferraro

Nick Ferraro

MnTC

Associate in Arts

"I had absolutely no idea what I wanted to do with my life until I started taking Journalism classes at Anoka-Ramsey and writing for the school paper. The school's slogan at the time was, "Anoka-Ramsey: It's a Great Place to Start." I still truly believe that.

I excelled in the Journalism and English classes and that gave me the confidence to stay in school and on the right path.

Without the start I received Anoka-Ramsey, I probably would not have finished college. And, with the job market the way it is, a college degree is more important than ever."
Carousel Pagination