Profile - Jennifer Liberty Clark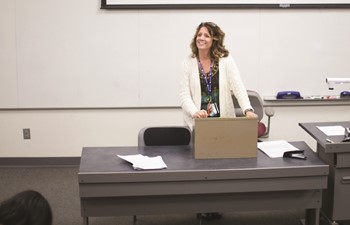 Instructor Profile
Meet Jennifer Liberty Clark
Instructor of Psychology
Bachelor of Art (BA) Psychology and Communications; Master of Science (MS) Community Counseling & Vocational Rehabilitation
Question and Answer
Question

Would you list some recent accomplishments?

Answer

Nominated for Board of Trustees Teaching Award 2010, 2011, 2013, 2014, 2015 and 2016

Silver Chalk Award Winner, 2016

Academic All Star 2016

Your Story Matters, An Anthology of Resiliency, 2017

Managing Your Life: Perspectives & Strategies for Change
By Jennifer Liberty Clark and Craig Rand, 2017

Question

What is your approach to teaching?

Answer

Education is the window to opportunity. It's a privilege to be a teacher and help young adults as well as older adults reach their visions and goals. The classroom is a magical place where thoughts, ideas and growth takes place. My goal is to help students experience that same magic in the classroom.

Question

What inspires you as a teacher?

Answer

Hands down, students inspire me the most. They inspire me with their stories, the ways that they've struggled, how they've overcome these struggles to get themselves to college with a hope of a future in which they will be successful, independent and happy.

Question

What makes your curriculum interesting or valuable to students?

Answer

I strive to make my classrooms active so that students have to think, discuss and create in order to learn.

Question

How do you help your students get the most out of your class?

Answer

I create outcomes that are related to their performance. I don't teach just to the test, but I create an environment that produces deeper learning for students. If students end the semester knowing how Freud impacted psychology, that's great. If they walk out knowing more about themselves as a learner and get recommitted to their learning process as it connects with their education, I believe that is more valuable. Some might even leave wanting to major in psychology.
Fun Facts
Fun Fact #1

I own a business as well as teach. It's a training and development company that helps small to mid-size companies improve their people skills.

Fun Fact #2

For the past 20 years, I have been teaching for an organization called Dale Carnegie Training as an adjunct instructor.

Fun Fact #3

I love water and boats. My favorite vacation is to a tropical place where I can get on a sailboat, catamaran or ship. I also love ferries and my own 17-foot Bayliner.
Meet Our Students and Alumni
Student Carousel
Carousel Navigation
Carousel Slides
Meet Kirsten Kennedy

Kirsten Kennedy

MnTC

Associate in Arts

"It was so reassuring to know that if I have a question or need help, resources and counseling were always accessible. There were opportunities to participate in clubs and senate for every student. Most important to me was the access and ability to communicate with my instructors when I needed extra help or had a scheduling conflict."

Meet Shannon Glenn

Shannon Glenn

MnTC

AA Psychology Emphasis

"Education shapes the future. It is important for everyone to get an education so we have an educated workforce."

Meet Nick Ferraro

Nick Ferraro

MnTC

Associate in Arts

"I had absolutely no idea what I wanted to do with my life until I started taking Journalism classes at Anoka-Ramsey and writing for the school paper. The school's slogan at the time was, "Anoka-Ramsey: It's a Great Place to Start." I still truly believe that.

I excelled in the Journalism and English classes and that gave me the confidence to stay in school and on the right path.

Without the start I received Anoka-Ramsey, I probably would not have finished college. And, with the job market the way it is, a college degree is more important than ever."
Carousel Pagination