Profile - Lexi Hunt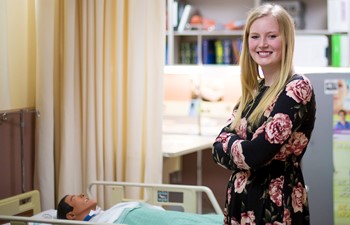 Student Profile
Meet Lexi Hunt
Nursing program
Question and Answer
Question

What originally brought you to Anoka-Ramsey?

Answer

I chose to attend Anoka-Ramsey because I am a homebody and very close with my family, and I would always like to live near them. This college gave me the freedom to still live at home while I am getting an education. I also love the price of it. It is way cheaper than other colleges, which is amazing because you are still getting the same quality education.

Question

Do you have any favorite instructors?

Answer

My favorite instructor that I have had here at Anoka-Ramsey is Jennifer Liberty Clark. She makes school material fun, and she truly cares about you as a person and wants to see you succeed.

Question

What are your plans for the future?

Answer

I plan to continue my education at Anoka-Ramsey to graduate and get hired in Nursing. I am also very excited to get married and have a family. 
Fun Facts
Fast Fact #1

Lexi's dream job is to be a labor and delivery nurse.

Fast Fact #2

Lexi's past jobs include working as a Personal Care Assistant (PCA) for a year and she currently teaches piano lessons.
Meet Our Students and Alumni
Student Carousel
Carousel Navigation
Carousel Slides
Meet Ashley Racutt

Ashley Racutt

Allied Health & Nursing

MANE RN Nursing

"Anoka-Ramsey is extremely student-oriented. The faculty and staff set students up for success. The Nursing program challenged me without overwhelming me."

Meet Georgina Minwegen

Georgina Minwegen

Allied Health & Nursing

MANE RN Nursing

"Anoka-Ramsey has a lot to offer; it has a great atmosphere, great teachers, and great prices! I love the one-on-one interaction between the teachers and the students. The individualized help that the teachers offer makes it easy to excel."

Meet Amanda Morgensen

Amanda Morgensen

Allied Health

Nursing

"Anoka-Ramsey offers low tuition costs and a positive environment from both peers and professors. It is a great place to start courses for a career. Everywhere you look, there is someone willing to help you with your studies."
Carousel Pagination