Profile - Leetha Phommachack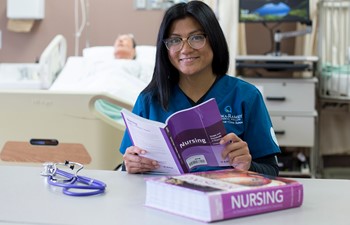 Student Profile
Meet Leetha Phommachack
Nursing program
Northeast Minneapolis, MN
Question and Answer
Question

What originally brought you to Anoka-Ramsey?

Answer

I chose to go to Anoka-Ramsey because it is close to home and because of the amount of evening and online classes that were available.

Question

Who are your favorite faculty so far?

Answer

The only challenge that I faced while attending Anoka-Ramsey is making the decision to cut back hours at work in order to focus on more difficult science classes. It may be difficult for now, but with a degree from Anoka-Ramsey I will be able to obtain gainful employment.

Question

What are your plans for the future?

Answer

My future plan is to become a nurse anesthetist.
Fun Facts
Fast Fact #1

Leetha has worked previously as a nursing assistant at Abbott Northwestern
Meet Our Students and Alumni
Student Carousel
Carousel Navigation
Carousel Slides
Meet Ashley Racutt

Ashley Racutt

Allied Health & Nursing

MANE RN Nursing

"Anoka-Ramsey is extremely student-oriented. The faculty and staff set students up for success. The Nursing program challenged me without overwhelming me."

Meet Georgina Minwegen

Georgina Minwegen

Allied Health & Nursing

MANE RN Nursing

"Anoka-Ramsey has a lot to offer; it has a great atmosphere, great teachers, and great prices! I love the one-on-one interaction between the teachers and the students. The individualized help that the teachers offer makes it easy to excel."

Meet Amanda Morgensen

Amanda Morgensen

Allied Health

Nursing

"Anoka-Ramsey offers low tuition costs and a positive environment from both peers and professors. It is a great place to start courses for a career. Everywhere you look, there is someone willing to help you with your studies."
Carousel Pagination