Profile - Georgina Minwegen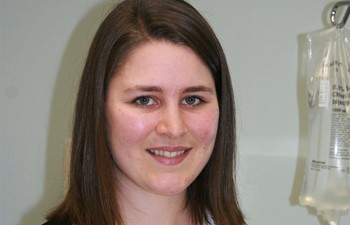 Student Profile
Meet Georgina Minwegen
Nursing program
Question and Answer
Question

Can you talk about Anoka-Ramsey?

Answer

Anoka-Ramsey is a great place to get your generals and then transfer to a four-year college. The quality of the classes and teachers is top notch, not to mention the classes are very affordable!

Question

What do you think about the Cambridge Campus?

Answer

Both campuses are very user-friendly. The staff is very friendly and  students are able to know the staff on a first-name basis. This is a unique feature that I appreciate.

Question

Why did you choose the Anoka-Ramsey Nursing program?

Answer

Students who take this Nursing program pass the state exam on their first try with amazing success. The Nursing program at this college rates very high in this regard. I highly recommend the Nursing program; it teaches you what you truly need to know.
Fun Facts
Fast Fact #1

Georgina's dream job is to be a Nursing Director at a nursing home.

Fast Fact #2

Georgina loved dissecting in the Anatomy and Physiology lab; it was a great hands-on learning experience!

Fun Fact #3

Georgina received a Cambridge Campus Presidential Scholarship.
Meet Our Students and Alumni
Student Carousel
Carousel Navigation
Carousel Slides
Meet Ashley Racutt

Ashley Racutt

Allied Health & Nursing

MANE RN Nursing

"Anoka-Ramsey is extremely student-oriented. The faculty and staff set students up for success. The Nursing program challenged me without overwhelming me."

Meet Georgina Minwegen

Georgina Minwegen

Allied Health & Nursing

MANE RN Nursing

"Anoka-Ramsey has a lot to offer; it has a great atmosphere, great teachers, and great prices! I love the one-on-one interaction between the teachers and the students. The individualized help that the teachers offer makes it easy to excel."

Meet Amanda Morgensen

Amanda Morgensen

Allied Health

Nursing

"Anoka-Ramsey offers low tuition costs and a positive environment from both peers and professors. It is a great place to start courses for a career. Everywhere you look, there is someone willing to help you with your studies."
Carousel Pagination