Profile - Ashley Racutt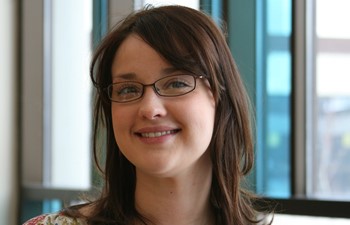 Student Profile
Meet Ashley Racutt
Nursing program
Question and Answer
Question

What would you say is the best aspect(s) of Anoka-Ramsey?

Answer

Anoka-Ramsey is extremely student oriented. They set students up for success.

Question

Who have been your favorite instructors?

Answer

I have got three of them! Mary Bodelson is an English professor and she really cares about her students progress. She makes sure you understand what is being taught. Jill Gromberg is also a favorite professor of mine. She taught my Stress Management class (which is essential to any college student's life). With her knowledge and great sense of humor, she taught her students things that we could actually use to improve our lives. Marc Robichaud is my Biology lab professor and so far, his enthusiasm for teaching biology has a catalyst in my learning experience.
Fun Facts
Fast Fact #1

One of Ashley's wild dream's is riding off into the sunset with Mr. Tall dark and handsome where he takes me to a tropical paradise with an eco-friendly bamboo house.
Meet Our Students and Alumni
Student Carousel
Carousel Navigation
Carousel Slides
Meet Ashley Racutt

Ashley Racutt

Allied Health & Nursing

MANE RN Nursing

"Anoka-Ramsey is extremely student-oriented. The faculty and staff set students up for success. The Nursing program challenged me without overwhelming me."

Meet Georgina Minwegen

Georgina Minwegen

Allied Health & Nursing

MANE RN Nursing

"Anoka-Ramsey has a lot to offer; it has a great atmosphere, great teachers, and great prices! I love the one-on-one interaction between the teachers and the students. The individualized help that the teachers offer makes it easy to excel."

Meet Amanda Morgensen

Amanda Morgensen

Allied Health

Nursing

"Anoka-Ramsey offers low tuition costs and a positive environment from both peers and professors. It is a great place to start courses for a career. Everywhere you look, there is someone willing to help you with your studies."
Carousel Pagination