Profile - Abigail Krause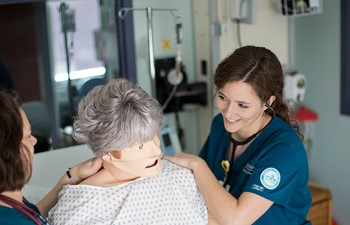 Student Profile
Meet Abigail Krause
Nursing program
Question and Answer
Question

What originally brought you to Anoka-Ramsey?

Answer

I chose to attend Anoka-Ramsey because it is close to my place of residence, is a small campus, and it has the nursing program I was interested in. The small class sizes allow for a more personalized learning experience and more time to interact with the instructors.

Question

What is one challenge you've faced while at Anoka-Ramsey?

Answer

One challenge I faced in my decision to attend Anoka-Ramsey for Nursing at the Cambridge Campus was the lack of a veteran club. I had previously taken classes in Coon Rapids and enjoyed the networking between fellow veterans and how active their club is. The club helped to make the transition from active duty to college student bearable.

Question

What are your plans for the future?

Answer

I plan to complete my RN education and obtain a Bachelor of Science in Nursing from Bemidji State University.
Fun Facts
Fast Fact #1

Abigail served for four years in the U.S. Marine Corps.

Fast Fact #2

Abigail loves the outdoors! Fishing, four-wheeling, hiking and camping.
Meet Our Students and Alumni
Student Carousel
Carousel Navigation
Carousel Slides
Meet Ashley Racutt

Ashley Racutt

Allied Health & Nursing

MANE RN Nursing

"Anoka-Ramsey is extremely student-oriented. The faculty and staff set students up for success. The Nursing program challenged me without overwhelming me."

Meet Georgina Minwegen

Georgina Minwegen

Allied Health & Nursing

MANE RN Nursing

"Anoka-Ramsey has a lot to offer; it has a great atmosphere, great teachers, and great prices! I love the one-on-one interaction between the teachers and the students. The individualized help that the teachers offer makes it easy to excel."

Meet Amanda Morgensen

Amanda Morgensen

Allied Health

Nursing

"Anoka-Ramsey offers low tuition costs and a positive environment from both peers and professors. It is a great place to start courses for a career. Everywhere you look, there is someone willing to help you with your studies."
Carousel Pagination