Profile - Fernande (Fern) Deno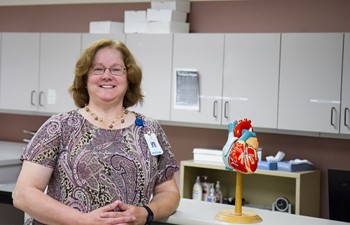 Instructor Profile
Meet Fernande (Fern) Deno
Instructor of Nursing
Master of Science (MSN) in Nursing, University of California San Francisco​
Question and Answer
Question

Would you list some recent accomplishments?

Question

What is your approach to teaching?

Answer

I work to promote clinical reasoning in the classroom as well as the clinical setting. I also work to help students build on previously learned knowledge to become excellent clinicians.

Question

What are some ways that you help students succeed when they need extra help?

Answer

I encourage students to set up one-on-one appointments to discuss what may be impacting their learning and aid in developing strategies to promote success.
Fun Facts
Fun Fact #1

I dance in an adult dance class (tap and jazz) and participate in dance recitals.
Meet Our Students and Alumni
Student Carousel
Carousel Navigation
Carousel Slides
Meet Ashley Racutt

Ashley Racutt

Allied Health & Nursing

MANE RN Nursing

"Anoka-Ramsey is extremely student-oriented. The faculty and staff set students up for success. The Nursing program challenged me without overwhelming me."

Meet Georgina Minwegen

Georgina Minwegen

Allied Health & Nursing

MANE RN Nursing

"Anoka-Ramsey has a lot to offer; it has a great atmosphere, great teachers, and great prices! I love the one-on-one interaction between the teachers and the students. The individualized help that the teachers offer makes it easy to excel."

Meet Amanda Morgensen

Amanda Morgensen

Allied Health

Nursing

"Anoka-Ramsey offers low tuition costs and a positive environment from both peers and professors. It is a great place to start courses for a career. Everywhere you look, there is someone willing to help you with your studies."
Carousel Pagination