Profile - Christine Andres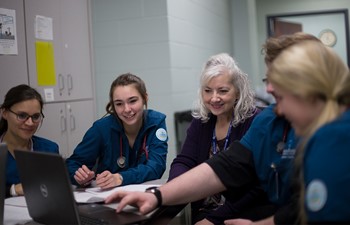 Instructor Profile
Meet Christine Andres
Instructor of Nursing
Doctor of Nursing Practice, University of Minnesota, Minneapolis, MN Bachelor of Science, Nursing, Metropolitan State University, St. Paul, MN Bachelor of Science, Biology, University of Wisconsin, Oshkosh, WI Associate in Science, Nursing, Anoka-Ramsey CC, Cambridge, MN
Question and Answer
Question

Would you list some recent accomplishments?

Answer

Contributing Author, in Schaffer, M., Garcia, C., & Schoon, P. (2014, 2011). population-based public health clinical manual: The henry street model for nurses. Sigma Theta Tau International.

Question

What is your approach to teaching?

Answer

I believe all students come to the learning environment with their own unique perspectives framed within their own cultural beliefs, values, and past experiences. Providing students a safe, non-threatening environment to challenge their perspective and critically think about real world issues through case studies, discussions, and personal reflections can create a rich learning experience and enhance understanding of nursing concepts. I wish to assist and empower students to identify their talents and passion for nursing practice areas, embrace opportunities to learn, and be comfortable with advocating for healthcare excellence.  I want nursing students to realize their profound impact as nursing professionals now and into the future.

Question

What inspires you as a teacher?

Answer

I have had many amazing teachers along my educational journey that I consider influential in making me the teacher I am today. One of these teachers was Dr. Cheryl Robertson, an amazing mentor and role-model, who provided the framework to think broader about public health and truly care about global health issues. It is inspiring to see nursing students recognize their role in providing holistic care for patients that extends to community and societal influences.

Question

What are some ways that you help students succeed when they need extra help?

Answer

Nursing students get to know their faculty. I believe that being present on campus and available by email, allows opportunities for students to connect when they have questions or concerns on their course content or progression. I like to connect students to our college resources that can offer support in the learning environment or guidance to personal challenges they may be experiencing.  Sometime, just being present and listening can be beneficial for students to reflect on their personal resources for success.

Question

How do you help your students get the most out of your class?

Answer

Students need an opportunity to apply information that they have read.  I like to provide learning experiences in the classroom and through assignments that encourage application of the concepts and focus on Anoka-Ramsey Community College's principles of life-long learning skill development that include clear thinking, effective communication, accepting diversity, and ethical decision making.
Fun Facts
Fun Fact #1

According to DiscoverNursing.com, there are currently 104 nursing practice specialty areas!

Fun Fact #2

According to the Gallop Survey, Nursing is viewed by the public as one of the most trusted professions!

Fun Fact #3

According to 2017 data published by the Minnesota Board of Nursing, the total number of Registered Nurses with current Minnesota licensure was 107,323.
Meet Our Students and Alumni
Student Carousel
Carousel Navigation
Carousel Slides
Meet Ashley Racutt

Ashley Racutt

Allied Health & Nursing

MANE RN Nursing

"Anoka-Ramsey is extremely student-oriented. The faculty and staff set students up for success. The Nursing program challenged me without overwhelming me."

Meet Georgina Minwegen

Georgina Minwegen

Allied Health & Nursing

MANE RN Nursing

"Anoka-Ramsey has a lot to offer; it has a great atmosphere, great teachers, and great prices! I love the one-on-one interaction between the teachers and the students. The individualized help that the teachers offer makes it easy to excel."

Meet Amanda Morgensen

Amanda Morgensen

Allied Health

Nursing

"Anoka-Ramsey offers low tuition costs and a positive environment from both peers and professors. It is a great place to start courses for a career. Everywhere you look, there is someone willing to help you with your studies."
Carousel Pagination