Profile - Rose Kelzenberg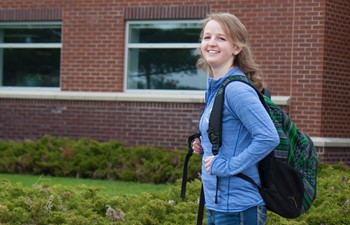 Student Profile
Meet Rose Kelzenberg
Associate of Arts
Question and Answer
Question

What have you enjoyed most about Anoka-Ramsey?

Answer

For me, the best aspect of attending Anoka-Ramsey is the friendly people and atmosphere. It has been such an easy adjustment from homeschooling to Anoka-Ramsey. There are barely any cliques and it's also very easy to meet new people and make new friends.

Question

Do you have any favorite instructors?

Answer

The Cambridge Campus has amazing instructors in STEM related fields. They are so kind and helped me get a good start on achieving my career goals. The Calculus I & II instructor was always willing to help me when I didn't understand something and took a genuine interest in what my future plans are, the Chemistry instructor was also a great inspiration, he cares enough about the student to learn everyone's name even though it's a huge class.

Question

Have you enjoyed the campus and its facilities?

Answer

The Cambridge Campus is amazing and big enough to find a quiet place to study but small enough not to get lost. The library is used by many of the students and has great study rooms that are amazing when you need a quiet place to study away from the distractions of other people.

Question

Is there one thing you would like people to know about you?

Answer

Learning is a passion of mine and I never want to stop. The world is such a big place with so much information available for us to learn about, I can't imagine not being able to continue learning about everything the world has to offer.
Fun Facts
Fast Fact #1

Rose plans to transfer to South Dakota School of Mines and Technology to earn a bachelor degree in Electrical Engineering. She says her credits transferred easily and it was a huge help to have her two years of generals completed.

Fast Fact #2

Rose's wild dream is to travel to Germany on either a business or study abroad trip and travel Europe on a vacation.
Meet Our Students and Alumni
Student Carousel
Carousel Navigation
Carousel Slides
Meet Garret Vensland

Garret Vensland

MnTC

Associate in Arts

"An education can have a profound and positive impact on people's lives. I love helping people and working with youth. With the help of my education here, I can do both in the future."

Meet Heather Jones

Heather Jones

MnTC

Associate in Arts

"I came to Anoka-Ramsey to figure out what I wanted to go into after going to a four-year university, and I realized where I thought I wanted to go wasn't really what I wanted. I was able to find the foundation for an amazing career here at half the cost."

Meet Behram Radmanesh

Behram Radmanesh

MnTC

Associate in Arts

"Anoka-Ramsey was affordable, had good resources and excellent professors. Be sure to make use of the tutoring center!"
Carousel Pagination