Profile - Megan Breit-Goodwin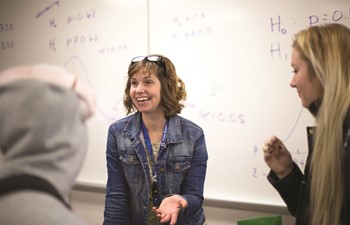 Instructor Profile
Meet Megan Breit-Goodwin
Instructor of Math
Doctor of Philosophy (PhD) degree in Mathematics Education, University of Minnesota; Master of Science (MS) degree in Mathematics, University of Nebraska; Bachelor of Arts (BA) degree in Mathematics and Secondary Education, Augustana College
Question and Answer
Question

Would you list some recent accomplishments?

Answer

I am a member of the Anoka-Ramsey Community College Scholars Program and am working on a Scholarship of Teaching and Learning study in Introductory Statistics that looks at the relationships between my own teaching and student statistical thinking, reasoning and literacy.

I am the principal investigator for Project SLOPE, a national project centered on two-year college faculty classroom based research and professional development. Project SLOPE is a collaborative effort among the American Mathematical Association of Two-Year Colleges, Anoka-Ramsey and Florida International University. Support for Project SLOPE is provided by the National Science Foundation (#1726891).

Publications

"Methodological advantages of combining two frameworks for examining proportional reasoning." Co-authored with Sitomer, A. Research Session at AMATYC Conference, 2015.

"Understandings of Proportionality as a Mathematical Structure and Psychological Aspects of Proportional Reasoning in CC Mathematics Students." Doctoral Dissertation, 2015.

"A continuing challenge: Developing initial fraction ideas." Co-authored with Kim, Y.R., Park, M. S., Moore, T. J., & Roehrig, G. H. Proceedings of the 12th International Congress on Mathematical Education (ICME-12), 2012.

Question

What is your approach to teaching?

Answer

Teaching mathematics is exciting, challenging and rewarding work. I enjoy working with students as they engage in mathematics and I am grateful to be a student of my own students, learning with and from them every single day.

Question

What inspires you as a teacher?

Answer

My students inspire me to be creative in my teaching. Their questions motivate me to think about mathematics and teaching in new ways. Their understandings have stretched and shaped my own reasoning around complex ideas. I have had many wonderful teachers who have passed their passion for teaching mathematics on to me, and I get to work with kind, enthusiastic and excellent colleagues at Anoka-Ramsey who support and encourage my growth as a teacher.
Fun Facts
Fun Fact #1

I am a morning person and I love teaching at 8 am!
Meet Our Students and Alumni
Student Carousel
Carousel Navigation
Carousel Slides
Meet Garret Vensland

Garret Vensland

MnTC

Associate in Arts

"An education can have a profound and positive impact on people's lives. I love helping people and working with youth. With the help of my education here, I can do both in the future."

Meet Heather Jones

Heather Jones

MnTC

Associate in Arts

"I came to Anoka-Ramsey to figure out what I wanted to go into after going to a four-year university, and I realized where I thought I wanted to go wasn't really what I wanted. I was able to find the foundation for an amazing career here at half the cost."

Meet Behram Radmanesh

Behram Radmanesh

MnTC

Associate in Arts

"Anoka-Ramsey was affordable, had good resources and excellent professors. Be sure to make use of the tutoring center!"
Carousel Pagination