Profile - Mark Omodt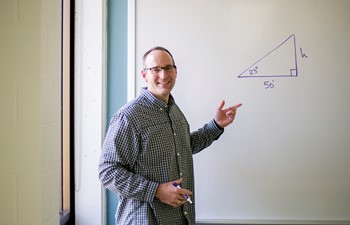 Instructor Profile
Meet Mark Omodt
Instructor of Math
Master of Science (MS) in Mathematics, Western Washington University; Bachelor of Arts (BA) in Mathematics and Spanish, Macalester College
Question and Answer
Question

Would you list some recent accomplishments?

Answer

Awards:

2013 AMATYC Teaching Excellence Award
2015 MinnMATYC Distinguished Teaching Award
2012 MnSCU Board of Trustees Educator of the Year Award nominee
2015 & 2010 Anoka-Ramsey Community College Golden Chalk Award
2012 & 2008 Anoka-Ramsey Community College Silver Chalk Award
2014, 2013, & 2011 Anoka-Ramsey Community College Golden Chalk Award finalist

Question

What is your approach to teaching?

Answer

I really like math, but I LOVE teaching math. For those students who struggle with math, I love that I can usually help to make it more accessible and understandable. For those who excel in math, I love that I can usually help to make it even more powerful and beautiful.

Question

What inspires you as a teacher?

Answer

Students inspire me.  I love helping them achieve the goals that they've set for themselves.  I especially enjoy helping them understand material that they've struggled with or found very difficult to grasp.

Question

How would you describe what happens during one of your most successful classes?

Answer

My most successful classes are focused on the students' questions as they try to master the material.  As a class, we explore and discover the material until we fully understand it.
Fun Facts
Fun Fact #1

I play tennis regularly with Bill Saari from the Engineering Department. (Bill usually lets me win.)
Meet Our Students and Alumni
Student Carousel
Carousel Navigation
Carousel Slides
Meet Garret Vensland

Garret Vensland

MnTC

Associate in Arts

"An education can have a profound and positive impact on people's lives. I love helping people and working with youth. With the help of my education here, I can do both in the future."

Meet Heather Jones

Heather Jones

MnTC

Associate in Arts

"I came to Anoka-Ramsey to figure out what I wanted to go into after going to a four-year university, and I realized where I thought I wanted to go wasn't really what I wanted. I was able to find the foundation for an amazing career here at half the cost."

Meet Behram Radmanesh

Behram Radmanesh

MnTC

Associate in Arts

"Anoka-Ramsey was affordable, had good resources and excellent professors. Be sure to make use of the tutoring center!"
Carousel Pagination