Profile - Yelizaveta Babashova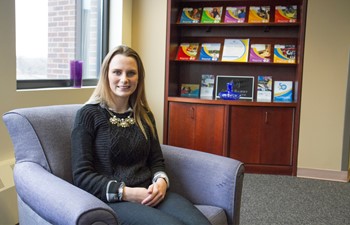 Student Profile
Meet Yelizaveta Babashova
Communication Studies program
Question and Answer
Question

What originally brought you to Anoka-Ramsey?

Answer

My older brothers and sisters attended Anoka-Ramsey before me, with the same intention of transferring after completing their AA degree. They told me about the great professors and wonderful classes, and how everyone there is always willing to help. They also stressed how affordable the classes are. In a world where college is necessary in order to make something of yourself, I didn't see it as an option. I saw it as a requirement.

Question

What would you say is the best aspect of Anoka-Ramsey?

Answer

The best aspect of Anoka-Ramsey is how helpful all of the staff is. I have made countless appointments with academic advisors, career counselors, and my professors. They all have been so patient and understanding, always answering my questions and giving me advice the best they could.

Question

Do you have any favorite instructors?

Answer

The two best instructors that I have had the pleasure of learning under have been Melody Hoffmann and Heidi Croatt. They are wonderful people and have been so awesome with helping and advising me on my future plans. I wouldn't have been able to make a decision on my major without the help of these two great instructors.

Question

What is one thing you want people to know about Anoka-Ramsey?

Answer

Just because Anoka-Ramsey is a community college, doesn't mean that you're getting any less of an education than you would a big university. The professors are wonderful and classes are challenging. You really feel like you're getting an education that's worth while.

Question

What about the Communication Studies program?

Answer

Anoka-Ramsey  has a very flexible schedule. There are so many class options--online, hybrid, in-class, online with scheduled meetings, eight-week courses, etc. The excuse of not having any time to get a degree becomes mute when the classes are flexible and the professors are understanding.
Fun Facts
Fast Fact #1

Yelizaveta likes to go by Lizzie.

Fast Fact #2

Lizzie's dream job is to write and travel for a company such as National Geographic.

Fast Fact #3

Lizzie plans to complete her associate of arts degree with an emphasis in Communication Studies at Anoka-Ramsey, then transfer to the University of Minnesota, Twin Cities to complete a bachelor of arts degree in Journalism and Mass Communications.
Meet Our Students and Alumni
Student Carousel
Carousel Navigation
Carousel Slides
Meet Amy Anderson

Amy Anderson

Business

AS Marketing & Management

"In the Business program I learned so much more than just the skills that employers are looking for. I learned the ability to exceed employers' expectations as well as your own!"

Meet Elise Boyum

Elise Boyum

MnTC

Associate in Arts

"I loved each one of my instructors, regardless of the subject or class size. Their willingness to engage with students one-on-one, offer assistance, and promote success was extremely beneficial to me and contributed to my overall wonderful experience at Anoka-Ramsey. Overall, the personal connections that I made during my time at Anoka-Ramsey added greatly to my experience and education."
Carousel Pagination