Profile - Dr. Heidi Croatt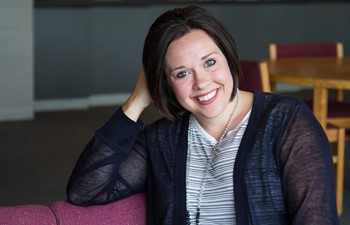 Instructor Profile
Meet Dr. Heidi Croatt
Instructor of Communication
Doctor of Philosophy (PhD) in Communication Studies, University of Minnesota Twin Cities
Question and Answer
Question

Would you list some recent accomplishments?

Answer

2014 Outstanding New College Teacher Award from The Communication and Theater Association of Minnesota

Question

What is your approach to teaching?

Answer

My teaching philosophy entails a student-centered approach to facilitating course material. It involves effort on my part to find a balance between creating comfort, empowering students and challenging them with college-level material. I believe that learning continues beyond the classroom and each course students take should help them achieve some goal they have. It is important students can take the information they learn and apply it beyond the classroom. Teaching in the department of Communication Studies means that every day I am learning from my students about the world we live in, and I get to help them better understand how to communicate effectively in that world.

Question

How would you describe what happens during one of your most successful classes?

Answer

The most successful classes are those in which students are engaged and invested in the material. When students challenge themselves to think critically about their own communication choices and actively participate in discussions about the world we live in, I know it's a successful class.

Question

What makes your curriculum interesting or valuable to students?

Answer

Communication is an essential (and desirable) skill for all people; in our department, we use real-world examples and current events to examine our relationships, our self-concept, our perceptions and our skills as communicators in various settings.
Meet Our Students and Alumni
Student Carousel
Carousel Navigation
Carousel Slides
Meet Thanh Ngo

Thanh Ngo

MnTC

Associate in Arts

"My education will allow me to live a better life, and to set an example for my children."

Meet Elise Boyum

Elise Boyum

MnTC

Associate in Arts

"I loved each one of my instructors, regardless of the subject or class size. Their willingness to engage with students one-on-one, offer assistance, and promote success was extremely beneficial to me and contributed to my overall wonderful experience at Anoka-Ramsey. Overall, the personal connections that I made during my time at Anoka-Ramsey added greatly to my experience and education."

Meet Yelizaveta Babashova

Yelizaveta Babashova

MnTC

AA Communication Studies Emphasis

"One thing I want people to know about Anoka-Ramsey is that just because it's a community college, doesn't mean that you're getting any less of an education than you would at a big university. The professors are wonderful and classes are challenging. You really feel like you're getting an education that's worthwhile."
Carousel Pagination