Profile - Amanda Romeo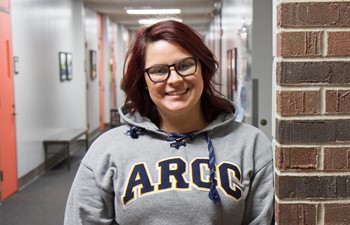 Student Profile
Meet Amanda Romeo
Business program
Question and Answer
Question

What originally brought you to Anoka-Ramsey?

Answer

I was invited, via a brochure in the mail, to attend a First Year Experience course for free over the summer.  Other aspects that solidified my choice to attend Anoka-Ramsey were location, accessibility and becoming a member of the TRIO Student Support Services program.

Question

Can you name some of your favorite instructors?

Answer

I am lucky to have had an array of good instructors. Some that top my list are: Ann McArdle, Jane Ruliffson, Zara Kivi-Kinnunen and Kathryn Kysar.  

Question

What is one thing you want people to know about Anoka-Ramsey?

Answer

Anoka-Ramsey is a great place to learn, not only within the classroom but outside of it as well.  There are an array of clubs, programs and work-study positions that allow for further growth within your field of choice.

Question

Any thoughts about the Business program?

Answer

Business is one of the best programs that Anoka-Ramsey has to offer. It is also possible to receive your bachelor's degree on campus through a partnership with universities in the area.
Fun Facts
Fast Fact #1

Amanda plans to transfer into the the University of Minnesota-Twin Cities Human Resources program.

Fast Fact #2

Amanda was a student worker in the Office of Multiculturalism & Diversity and says the lessons she learned will be of good use in her future human resources career.

Fast Fact #3

Amanda's dream job is to work as a human resources trainer for a large corporation, constantly meeting new people and traveling to different locations.
Meet Our Students and Alumni
Student Carousel
Carousel Navigation
Carousel Slides
Meet Cassandra Bauer

Cassandra Bauer

MnTC

AA & Business

"Anyone of any age wanting to go to college to pursue a degree or general education can come to Anoka-Ramsey and expect a great education and a great time.

When you apply for a scholarship, you will likely get one. I received two scholarships my freshman year: The Otto Bremer Scholarship for $1,500 and the Presidential Scholarship for $3,000."

Meet Angela Kealey

Angela Kealey

MnTC

Associate in Arts

"Deciding to attend Anoka-Ramsey was one of the best decisions I ever made. I received my two-year degree with the lowest tuition in Minnesota and with a very flexible class schedule. I also gained hands-on experience through Phi Theta Kappa, which has strengthened my academic studies."

Meet Amy Anderson

Amy Anderson

Business

AS Marketing & Management

"In the Business program I learned so much more than just the skills that employers are looking for. I learned the ability to exceed employers' expectations as well as your own!"
Carousel Pagination