Profile - Jon Gallop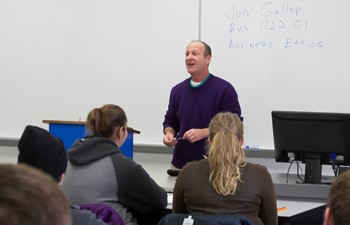 Instructor Profile
Meet Jon Gallop
Instructor of Business
Juris Doctorate (JD), University of Minnesota Law School; Bachelor of Arts (BA), Drake University
Question and Answer
Question

Would you list some recent accomplishments and publication?

Answer

Named Super Lawyer repeatedly by Minneapolis/St Paul Magazine and the Bench and Bar


Publication: The CIDER Method (2019). The book outlines a systematic approach for handling employee complaints including but not limited to sexual harassment and disability. CIDER is an acronym that explains the proper method and stands for Communicate, Investigate, Document, Evaluate and Respond. 

Publication: ASPIRE To Ethics (2020). 

This textbook takes a unique approach by using real life scenarios along with humor. Situations explored include ways to respond when seeing a classmate cheat on a test, business owners placing false reviews of their company online, and the ethical considerations involved in embellishing one's resume. This textbook teaches students a detailed method for analyzing their decision making. By using the ASPIRE method, readers will learn to recognize all sides of conflicts or ethical issues and use a systematic approach to arrive at solutions to issues that will arise throughout their careers.

Both books are also available on Amazon.

Question

What is your approach to teaching?

Answer

I teach about the real world of business drawing from my over twenty years of practicing law and seeing the ramifications of being ill prepared.
Fun Facts
Fun Fact #1

I coach high school baseball.
Meet Our Students and Alumni
Student Carousel
Carousel Navigation
Carousel Slides
Meet Amy Anderson

Amy Anderson

Business

AS Marketing & Management

"In the Business program I learned so much more than just the skills that employers are looking for. I learned the ability to exceed employers' expectations as well as your own!"

Meet Porscha Sullivan

Porscha Sullivan

Business, Management & Administration

AS Business

"I chose Anoka-Ramsey because of the opportunities and the atmosphere. Whenever in doubt, don't hesitate to ask, because they care for your success as much as you do. You learn so much and the things learned and experienced can be taken with you, and added to your portfolio."

Meet Cassandra Bauer

Cassandra Bauer

MnTC

AA & Business

"Anyone of any age wanting to go to college to pursue a degree or general education can come to Anoka-Ramsey and expect a great education and a great time.

When you apply for a scholarship, you will likely get one. I received two scholarships my freshman year: The Otto Bremer Scholarship for $1,500 and the Presidential Scholarship for $3,000."
Carousel Pagination