Profile - Phill Goldman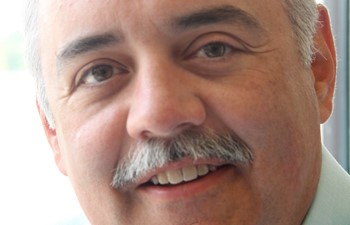 Student Profile
Meet Phill Goldman
Medical Device Manufacturing program
Question and Answer
Question

What originally brought you to Anoka-Ramsey?

Answer

After 16 years in the disc drive business, I became part of the 'great recession' in 2009. I decided to refocus my career on biomedical devices. I've earned a master's degree in Electrical Engineering, but that alone was not enough.

Most biomedical companies require three-five years' experience in the industry for many roles, and working through the Biomedical program at Anoka-Ramsey sort of 'short circuited' that requirement, something an electrical engineer can appreciate.

Question

What would you cite you as one of the best aspect of Anoka-Ramsey?

Answer

Engineering school and company-supplied training tend to be quite specific and bit insular. The variety of course content and the diversity of student viewpoints served to provide a broader, more complete view of industry. 

Question

Do you feel you overcame a unique or specific personal obstacle in the pursuit of your education?

Answer

Returning to college after 24 years away isn't unique, but it was new to me. Could I pick up study habits I had in the 1980's while my life had become more complex? Happily, it all came back.

Question

What is one thing you want people to know about the Biomedical Technology program at Anoka-Ramsey?

Answer

The Biomedical Device Manufacturing program fits perfectly with the needs of companies like Medtronic, among many others.  The coursework forms a wonderful foundation for success, even for seasoned workers. I've been recommending it to both new and aspiring medical device team members.
Fun Facts
Fast Fact #1

Phill started employment at Medtronic at the same time he began his studies at Anoka-Ramsey.

Fast Fact #2

Phill's internship at Medtronic became permanent employment, and he cites his Anoka-Ramsey studies as "instrumental" in his early success with the company.
Meet Our Students and Alumni
Student Carousel
Carousel Navigation
Carousel Slides
Meet Laurél Kimpton

Laurél Kimpton

Allied Health & Nursing

Integrative Health & Healing

"Anoka-Ramsey has the only associate in science degree program in Integrative Health and Healing in Minnesota. With both certificate and an associate in science degree option, the Integrative program allows for initial exposure to this emerging medical field and articulation agreements that allow you to continue your studies. This innovative program can give a marketable edge to students studying in fields such as nursing/hospice care, pre-med, pharmacy tech, business, social work/mental health, and more!"

Meet Nancy Hagen

Nancy Hagen

Biomedical

Biomedical Technician

"Knowledge via a good education makes a person better able to understand and care for others. I want to be a better person and live a fuller life as an educated person. That's why I chose Anoka-Ramsey. It provides a great education at very good value."

Meet Frances Beech

Frances Beech

Biomedical

Clinical Research Professional

"If you already have a four-year degree in Nursing, or any of the sciences, and are interested in clinical research, Anoka-Ramsey is an affordable option for opening new career options. Because of the strong biomedical focus at the college, you will gain a lot more than just clinical knowledge."
Carousel Pagination