Profile - Nikki Remington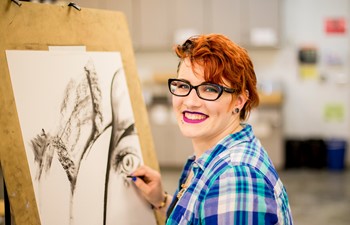 Student Profile
Meet Nikki Remington
Art program
Question and Answer
Question

What was a highlight of your time in the Art program so far?

Answer

Working with my classmates in the Portfolio Seminar class was a pretty important highlight of my education. I feel like we coordinated incredibly well and encouraged one another. It was inspiring to work with such creative and skilled individuals, and it was a lot of fun to set up for the AFA portfolio show together.

Question

Name one thing you want people to know about the Anoka-Ramsey Art program

Answer

Anoka-Ramsey has so much to offer for art students. They have a wide range of class types, including glass blowing, which is not very common. They also have incredibly dedicated and proactive faculty in the art department.
Fun Facts
Fast Fact #1

Nikki's hobbies include art, music, wake boarding, snowboarding, and riding bicycle.

Fast Fact #2

Nikki's dream job is illustrating for Wizards of the Coast.
Meet Our Students and Alumni
Student Carousel
Carousel Navigation
Carousel Slides
Meet Chris Jopp

Chris Jopp

Arts & Communication

AFA Art

"Anoka-Ramsey is a great stepping stone to a four-year degree. You will spend a lot of hours at school making things that you might not understand at the time, and in the process you will develop a weird family-like bond with a strange cast of characters that you will fondly yearn for in the near future. You will love it."

Meet Aaron Becker

Aaron Becker

Arts & Communication

AFA Art

"I love the Art program at Anoka-Ramsey, and they have the best staff. The faculty make you feel good about the path you're taking, and the college has scholarship programs to help out financially."

Meet Arie Perry

Arie Perry

Arts & Communication

AFA Fine Arts

"Even though I wasn't sure of the best degree for me, I am glad I choose the AFA in Arts degree! Anoka-Ramsey offers one of the best programs in the Minnesota."
Carousel Pagination