Russell Johnson Herbarium

Russell Johnson Herbarium
The Russell Johnson Herbarium is a collection of pressed and dried plant specimens including seedless vascular plants (mostly ferns: Pteridophyta), gymnosperms (mostly Coniferophyta) and angiosperms (flowering plants: Magnoliophyta). Specimens continue to be added to the collections.

The herbarium serves students as a plant reference collection from which they can learn botanical classification, plant relationships and experience examples of the magnitude of botanical diversity.  Students can also learn plant preservation, storage techniques and shelving models.
The Russell Johnson Herbarium is housed in the library of the Anoka-Ramsey Community College Cambridge Campus in Cambridge, Minnesota.

Visitors are welcome to the herbarium. Please call or email the curator to set up an appointment. Visitors may wish to view specimens or compare plants they have with the collection for identification and classification. Several resources are available to assist in identifying plants.
Groups are encouraged to arrange for a tour.
Anoka Ramsey Community College, 300 Spirit River Dr S, Cambridge, MN 55008, United States
The Cambridge Campus is 40 miles north of Minneapolis, Minnesota on the western edge of the city of Cambridge, a rural environment within Isanti County.
The 128.8 acre campus, located on a bluff on the banks of the Rum River, is home to many native plant species.
Curator
Mary Januschka
763-433-1876

Address
300 Spirit River Drive S.
Cambridge, MN 55008
Database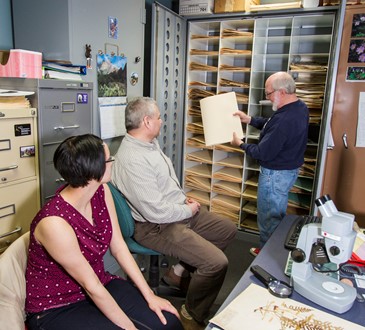 Database
This is a database of detailing a collection of plant specimens housed within the Herbarium. Check it out!
Organization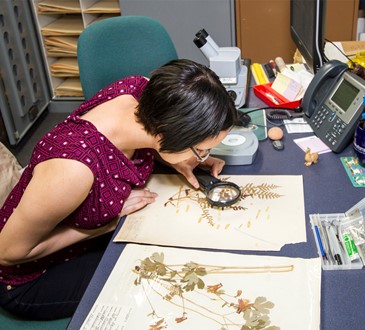 Organization
The shelving organization is based on plant family relationships which is determined by geological, morphological and DNA evidence.
Biology Department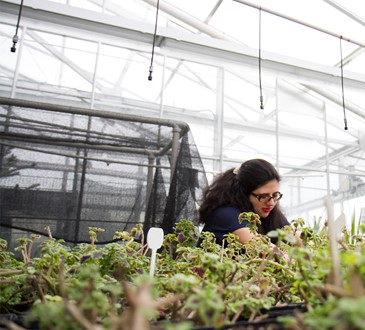 Biology Department
Learn more about the Biology Department initiatives and faculty at Anoka-Ramsey Community College.
The herbarium is named in memory of Associate Professor Russell W. Johnson (1911-2002) who donated his home teaching collection. The collection includes plants collected as early as 1944 and continuing on for over 40 years. Johnson's collection serves as the nucleus of the college herbarium currently comprising about 75% of herbarium specimens.
Johnson received his MA in Forestry from the University of MN in 1935.  His professional career began with six years with the US Forest Service in the Civilian Conservation Camps (CCC) in MN during the Great Depression.  Johnson served as a U.S. Army Captain during WW II and married Margaret M. Torell (1941) from the Cambridge pioneer A.W. Torell clan.
A major love for Johnson was teaching and collecting which he did for over 53 years at Bethel College (now Bethel University) in the St. Paul, MN area. Johnson enjoyed sharing his love of nature with students through biology, botany, and geology courses.  
During his time at Bethel, Johnson also served the U.S. Navy and Air Force pilots and ground troops in the 1960's as a consulting biologist. His role was identifying plants for survival in the tropical forests for troops in Southeast Asia and the Far East.    
Russell W. Johnson donated his entire personal collection to the college in 2001.  College faculty and students as well as the community appreciate the use and value of the collection.
Meet Our Students and Alumni
Student Carousel
Carousel Navigation
Carousel Slides
Meet Rumen Hulmequist

Rumen Hulmequist

Allied Health

AS Exercise Science

"I chose Anoka-Ramsey because I knew I wasn't ready academically, mentally and independently for a four-year university, and I knew that Anoka-Ramsey would support me. Anoka-Ramsey has helped me develop in my personal and academic success."

Meet Kayshree Jagannath

Kayshree Jagannath

MnTC

AA Psychology Emphasis

"Anoka-Ramsey has a friendly environment of people and the staff is so friendly. There are a wide variety of program courses to choose from, and its courses are part of the Minnesota Transfer Curriculum (MnTC)."

Meet Robert Walz

Robert Walz

World Language

Spanish

"I attribute my success to outstanding instructors and my acceptance by regular students in my classes. If anything, I became a resource to them and a role model for life-long learning."
Carousel Pagination