You're invited to the College production of Little Shop of Horrors Feb. 15-16 & 21-23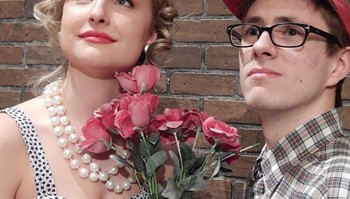 February 11, 2019
Anoka-Ramsey Community College students' will showcase their talents in the college's production of Little Shop of Horrors by Alan Menken and Howard Ashman Feb. 15, 16, 21, 22 & 23 at 7:30 pm in the Coon Rapids Campus Performing Arts Center.
Little Shop of Horrors is described as a sci-fi musical with an electrifying 1960s pop/rock score. The story focuses on Seymour, who works at a flower shop and attends to a plant named Audrey II (named after his crush). Audrey II however is no normal plant! It came from outer space and, as it grows, people start mysteriously disappearing. What started as caretaking by gentle Seymour ends in a desperate fight to save the world from this bloodthirsty intruder.
Little Shop of Horrors production
Feb. 15, 16, 21, 22 and 23, 2019
7:30 pm
Anoka-Ramsey Community College
Coon Rapids Campus at Performing Arts Center
$8 for general public
Tickets are available to purchase online, by calling the Coon Rapids Campus bookstore at 763-433-1250 or $8 at the door, one hour prior to performances.
For more information about upcoming productions or the Anoka-Ramsey Community College Theatre Department. 
Supplementary Information
Recent News

Anoka-Ramsey In The News

Contact Us

Marketing & Public Relations

Media Relations Contacts: Mary Jacobson & Fia Prpic