Undergraduate Research: Unique experiences previously reserved for university students now available at Anoka-Ramsey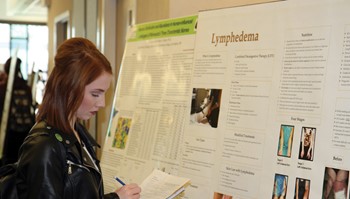 July 05, 2016
An article from the Summer 2017 Issue of the Anoka-Ramsey Community Newsletter
Anoka-Ramsey offers a wide variety of Undergraduate Research opportunities in biology, chemistry, geography, communication studies, philosophy, political science and sociology.
For example, through the Community College Undergraduate Research Initiative supported by the National Science Foundation, Anoka-Ramsey students conduct leading-edge scientific research in chemistry and computer science.
Chemistry instructor Christopher Lutz oversees research using a Matrix Assisted Laser Desorption/Ionization (MALDI) mass spectrometer. This experience is valuable for students like David Schiller and Benjamin Burdorf. "Getting hands-on experience with the MALDI technique will really help me analyze things later on," Schiller says. Burdorf also enjoyed MALDI research. "It broadened my education experience."
In January 2016, Biology instructor Melanie Waite-Altringer with three of her undergraduate research students, Cassandra Bauer, Cassie Keocher and Maxwell Waite, presented their research work titled "Beneficial Pollinating Insect Study on Various Flowering Fields: Wildflowers, Restored Prairie, and an Energy Crop of Canola," to Bayer CropScience at their headquarters in Durham, N.C.
Biology instructor Kristen Genet sums up the need for undergraduate research this way:
"Research is a way of life for a scientist."
OSCARS Event
In Spring 2016, students were recognized for exceptional work. Winners at the first annual Outstanding Scholarship, Creative Activities and Research Symposium (OSCARS) included the following scholars and subjects:
Cambridge Campus
Sarah Larson and Vicki Larson researched The Effect of "Socialization on the Elderly in Nursing Homes"
Deborah Lund, Ben Coleman and Kelly Waller described "Media Effects on Young Adults' Perceptions of Police Officers"
Jason Freiberg, Thomas Johnson and Madison Spencer researched "Kinetics of a Chemiluminescent Reaction"
Coon Rapids Campus
Dyllon Degler and Jasmine Johnson conducted a comparative genomics analysis of Drosophia ficusphila heterochromatic chromosome 4 contig 6
Ariel Lopez examined how human influences affect frogs in three Minnesota regions
Rebekah Larson investigated resistance to Tetracycline and Erythromycin antibiotics in a captive wolf's intestine
Supplementary Information
Recent News

Anoka-Ramsey In The News

Contact Us

Marketing & Public Relations

Media Relations Contacts: Mary McCarthy