Peaslee honored for leadership, innovation and commitment to student success by Minnesota State system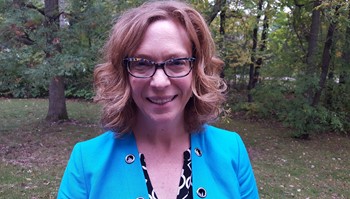 October 16, 2017
Deidra Peaslee, Ed.D., vice president of Academic and Student Affairs at Anoka-Ramsey Community College, has been selected to receive the award for Outstanding Academic and Student Affairs Administrator from the Minnesota State system.
Providing leadership at both the college and the system level, Peaslee has been active in Faculty Shared Governance and many state committees devoted to strategic planning and academic affairs. She completed the Minnesota State colleges and University System Executive Leader Development Program in 2016 and attended Luoma Leadership Academy in 2005.  
Peaslee has been a champion for both original faculty research projects and undergraduate research at Anoka-Ramsey, a unique offering at the community college. She was instrumental in launching a Scholars of Teaching and Learning initiative, which supports faculty in conducting original research on how community college students learn, in order to improve student learning outcomes.
"Last year, we started a program helping faculty to actually do active research on what it takes to help their students become successful," said Peaslee. "While there is substantive research focusing on university student learning and much written about the K-12 system, there is much less about the community college learners. Our students are different than those students, and they deserve to have faculty who understand how to help them to learn."
Her research on "The Relationship between Faculty Confirmation and Community College Student Self-Efficacy" has been published in the Community College Journal of Research and Practice.
Alongside the college administration, Peaslee has worked to support concurrent enrollment, foster community partnerships, and give students the support they need to complete their degree. She is working to identify and implement new academic programs that will be a service to the community, and to make attending college easier for non-traditional students, even down to the times classes are offered.
"I've been really blessed by the people I work with day in and day out," said Peaslee. "They are so talented, and they are truly great leaders and innovators."
Peaslee joined Anoka-Ramsey Community College in 2002, taking a position as Dean of Educational Services for the Cambridge Campus. In her 15 years at Anoka-Ramsey, she has served as the Dean of Educational Services and the Chief Academic Officer. She advanced to become the Vice President of Academic and Student Affairs, a role which she accepted in 2011. Prior to her tenure at Anoka-Ramsey, Peaslee worked at DePaul University, for American College Testing (ACT) Midwest Region, South Dakota State University and Minnesota State University – Mankato.
She holds a Doctor of Education in Leadership from St. Mary's University, a Master of Science in Counseling and Student Personnel from Minnesota State University – Mankato, and a Bachelor of Science in Psychology from South Dakota State University.
Though Peaslee has worked diligently to ensure her efforts are grounded in research, her number one focus is on student success. She previously worked for four-year colleges and graduate programs, but Peaslee said she found renewed purpose working at the community college level.
"Community colleges attract all kinds of students, including high achieving students as well as students who are struggling to overcome personal challenges," said Peaslee. "While this is probably true of four-year universities too, when students attend a community college it gives them a chance to truly change their life."
She said it's encouraging and gratifying to see the college get national recognition, after it was named a top community college by the Aspen Institute for a second time.
"I'm very proud to see the transformation that can occur as a result of what we provide to community college students," said Peaslee. "It's so uplifting to remember that what we do makes a difference."
According to Anoka-Ramsey Community College President Kent Hanson, Ph.D., Peaslee has played no small part in this success.
 "I am so proud of the work that Deidra Peaslee has accomplished while at Anoka-Ramsey Community College," said Hanson. "She is an innovative thinker who has brought Undergraduate Research opportunities to community college students, she has revamped our advising model to assist students in achieving their dreams, and helped the college become a Top 10 Community College in the nation. Deidra is a trusted colleague and is well respected as a strong leader who advocates for her team while fostering a student-centered focus."
The Outstanding Academic and Student Affairs Administrator award will be presented at a reception being held in conjunction with the Academic & Student Affairs (ASA) Fall Leadership Conference on Monday, Oct. 16, in Pequot Lakes, Minn.
Supplementary Information
Recent News

Anoka-Ramsey In The News

Contact Us

Marketing & Public Relations

Media Relations Contacts: Mary Jacobson & Fia Prpic