Minnesota GreenCorps project and new Sustainability Certificate help advance Anoka-Ramsey's commitment to environmental sustainability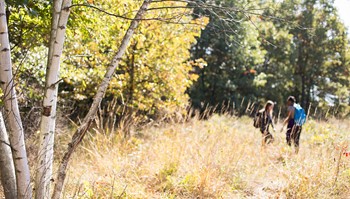 April 22, 2021
In Victoria Downey's geography courses at Anoka-Ramsey Community College, she spends a large amount of time discussing the human and environmental interface and how climate change is influencing it. The more she researches and shares about climate change, the more she feels compelled to do something about it.
Anthropology instructor Lisa Becker's curiosity around why humans do things that are detrimental to their future have also led her to more frequent conversation around climate change.
For both instructors, climate change and sustainability have become a common topic in their classes. With a commitment to educating around the topic, coupled with the clear concern and passion shown by students at the college, Downey and Becker were motivated to lead impactful sustainability efforts at the college.
Leading the way in Sustainability
At the leadership of students and faculty members Becker and Downey, Anoka-Ramsey started an official Sustainability Committee. The committee supports the college's dedication to environmental sustainability and works to:
conserve natural resources through usage reduction, sustainable practices, and the purchasing of environmentally sustainable goods;
encourage the use of sustainable transportation to and from our commuter campus;
reduce waste generation through decreased consumption and increased recycling; and
educate our campus and surrounding communities through sustainability-focused education, modeling of best practices, and educational campaigns focused on environmental action.
Funded by the Minnesota Pollution Control Agency, the committee has been working with a Minnesota GreenCorps member to help advance the committees goals.
Brent Paulson joined the Coon Rapids Campus staff  for the 2020-21 academic year to complete a full assessment of the campus' green house gas usage and make recommendations based on data to create an action plan to improve campus sustainability efforts.
Paulson recently graduated from the University of Wisconsin-Madison where he majored in Conservation Biology and Environmental Studies, with the intent of pursuing a career in conservation and sustainability. Given the GreenCorps' heavy emphasis on preserving the environment (specifically through waste reduction), he knew that it would offer him experience that would be invaluable for his career interests.
Paulson spent the summer and fall analyzing data around energy use at the college through utility records and a commuter survey presented to faculty, staff and students.  More than 600 individuals responded to the survey.
"I was able to find a resource to calculate emissions from commuting using data in the surveys along with zip code data from 2018 – 2019 for students," says Paulson. "We found generally that commuting made up at least 50 percent of emissions for 2018 through 2020."
As a community college and commuter campus, the survey also revealed that more than 80 percent of faculty, staff and students drove solo to campus pre-COVID. The initial results seem a bit overwhelming, but also create a big opportunity for impact.
"The response rate to the survey was surprising," says Downey, "It shows that people do care. People have their own agency to make changes and it seems like a challenge at first, but I'm more encouraged than anything about the opportunity to change behaviors and make an impact."
With the full assessment set to be complete this spring, the committee is on-track to make recommendations through a carbon action plan late August.
Anoka-Ramsey has been offering an Introduction to Sustainability course since the 2020 academic year.  Through that course and goals of the committee, Downey and Becker recognized the need for more education opportunities at Anoka-Ramsey.
"The participation rate of the commuter survey helped show how forward thinking the campus and college is, says Becker, "we understand the importance of climate change."
For the fall 2021 semester, Anoka-Ramsey will be offering a new Sustainability Certificate option for students.
As Paulson reflects on his time spent with Anoka-Ramsey and the Minnesota GreenCorps project so far, he is excited about the new options for students.
"What I hope comes from this work is normalizing sustainability practices. That's the kind of change we need to see," says Paulson. "Thinking and acting sustainably is a necessary part of life for us to have a planet to continue to live."
-
To learn more about the Sustainability Committee and the Carbon Action Plan project visit AnokaRamsey.edu/sustainabilitycommittee.
Supplementary Information
Recent News

Anoka-Ramsey In The News

Contact Us

Marketing & Public Relations

Media Relations Contacts: Mary McCarthy