Inspiring impact and action in sustainability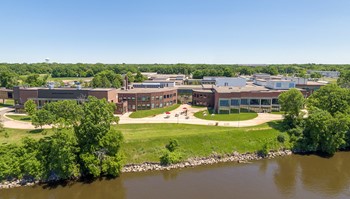 February 15, 2022
Five years ago, a group of faculty, staff and students put Anoka-Ramsey Community College on a path to investing in sustainability that will make a lasting impact.
In a recent reflection, Victoria Downey, Anoka-Ramsey geography instructor and a founding member of the Sustainability Committee at the college, shared, "Five years ago we started our sustainability journey by getting our first recycling bins in classrooms at Anoka-Ramsey."
Since then, the group has helped add campus organics recycling, built a Sustainability Policy, launched an Introduction to Sustainability course and Sustainability certificate, and partnered with a Minnesota GreenCorps member to complete a full greenhouse gas assessment to help inform recommendations for Anoka-Ramsey's sustainable future through a Carbon Action Plan.
The efforts have been woven into aspects of the college experience at every level and are part of statewide commitment to the principles of environmental sustainability. The committee and college also work to educate surrounding communities through sustainability-focused education, modeling of best practices and educational campaigns focused on environmental action.
Sustainability in the Classroom
Anoka-Ramsey has been offering an Introduction to Sustainability course since the 2020 academic year. Through that course and goals of the committee, Downey and Lisa Becker, an anthropology instructor and Sustainability Committee member, recognized the need for more education opportunities at Anoka-Ramsey.
For both instructors, climate change and sustainability have become common topics in their classes. Responding to the clear concern and passion shown by students at the college and commitment to sustainability-focused education, Anoka-Ramsey added a Sustainability Certificate program in fall 2021.
"Isn't it the goal of any professor to inspire action outside of the classroom?" asked Kenzie Fodness, a student at Anoka-Ramsey.
Fodness took both the Intro to Sustainability and an Energy Use course at the college and sees the commitment to sustainability in action.
"The idea that students can be taking these courses and learning about sustainability, but also doing things that will prepare them for their future goals regardless of if they choose to work in the field is an amazing opportunity," she said.  "It's not something that would be easy for people to find without additional schooling which not everyone can afford."
Fodness' experience in the courses made the complex issues and science around climate change that were being learned in class tangible.
"Instructors found a way to teach factual information that is extremely important but would also show us how it affects the real world and real people and what actions we can take to influence change."
According to Fodness, it's the collective, small actions of individuals across all pillars of sustainability—environmental, economic, social/cultural and wellness—that will make a lasting change.
2021 Highlights in Sustainability
16-credit Sustainability Certificate launched fall 2021
91% of all debris from the recent demolition of the college's Business and Nursing building has been recycled
Through strategic efficiency efforts, including energy efficiency improvements to facilities and improvements in space utilization, the colleges and universities of Minnesota State were able to achieve an average reduction of Energy Use Intensity of more than 19% per square foot between 2009 to 2020
600 individuals responded to a commuter survey to help inform a greenhouse gas assessment
Minnesota GreenCorps member completed first greenhouse gas assessment to create the college's first Carbon Action Plan
Anoka-Ramsey is dedicated to environmental sustainability and providing a space for students and the community to be educated and inspired to act with us. Learn more about how you can get involved.
Supplementary Information
Recent News

Anoka-Ramsey In The News

Contact Us

Marketing & Public Relations

Media Relations Contacts: Mary McCarthy