Anoka-Ramsey Community College seeks funding for Business and Nursing building renovation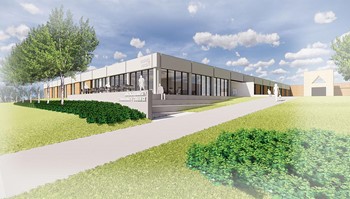 September 06, 2019
Anoka-Ramsey Community College welcomed representatives from the House Capital Investment Committee to the Coon Rapids Campus on Wednesday, Sept. 4 to help kick off a system-wide bonding tour to support the Minnesota State 2020 Capital Request.
Members of the House Capital Investment Committee, local legislators and Anoka-Ramsey faculty and leadership gather on the Coon Rapids Campus
As part of the request, Anoka-Ramsey is seeking funding to complete the modernization and expansion of the Nursing and Business building on the Coon Rapids Campus.
Architect rendering of the Anoka-Ramsey Community College Campus Business and Nursing Building renovation.
In 2018, Anoka-Ramsey received funding for the design of the renovation. Full funding of the $16.3 million project will modernize, enhance and repurpose classrooms and labs to increase enrollment and provide flexible learning options as well as a welcoming, synergistic environment for one of the largest nursing programs in Minnesota.
"The request will help move the college's strategic priorities forward and support effective teaching and learning," said Kent Hanson, president of Anoka-Ramsey Community College.
During the tour of the current space, representatives got to hear from Business and Nursing faculty and students about the current issues and constraints of the space as well as future impacts the project will have on the programs.
Refurbishment of the Business and Nursing Building will enable the nursing curriculum to be supported by the physical spaces needed to educate contemporary Nursing students to meet the needs of the ever-expanding workforce. This includes an emphasis on the importance of simulation (SIM) labs.
Simulation has become an essential part of nursing education. With increased patient acuity and expanded diagnoses, high-risk, low-incidence clinical interventions become proficient through clinical simulation.
The optimized physical space will allow active learning of skills and the application of nursing theory that are needed to be successful in the health care industry. Aligning simulation spaces with practicum environments and hands-on learning labs in a contiguous area, will enhance learning efficiencies and effectiveness.
Anoka-Ramsey President Kent Hanson and Nursing student Sarah Richardson
Nursing student Sarah Richardson was part of the tour Wednesday. "I have personally experienced failure due to lack of space," Richardson shared candidly. "When I began the nursing program, I was homeless. I lived in a shelter with rules and one of them was everyone had to do two chores each day. I woke up one morning at 3:30 am to catch three buses to get to school. I wanted to be one of the first people here. However, many students had the same idea and the lab was crowded, I waited for two hours before a bed came available. That left me only 20 minutes before my next class. When test out day came, I was unsuccessful. I needed that simulation to tie everything together." Richardson was crushed. "The goal of the nursing program is to develop nurses that will be able to go out into the world and apply the knowledge they learn here to save lives. That's going to be hard to do if they can't get the practice in."
This upgrade is also an investment in the recently accredited Business program at Anoka-Ramsey and will significantly improve the quality of teaching and learning for our business students by creating collaborative classroom environments, establishing more hands-on learning spaces and enable the college to expand offerings with our four-year university partners.
"My experience with the faculty and staff in the Business program has been great, but there are serious issues with the classrooms that make learning challenging," shared a current Business student Faisal Alfahad during the tour. "The lack of modern facilities and technology makes it difficult to see what the instructors are writing. Space is big issue, especially navigating the shared space with the nursing students. This project will help Business students learn by minimizing distractions, addressing overcrowding in shared spaces, and provide more room for classes, activities and group discussion."
A request with statewide impact
Anoka-Ramsey's request is just a piece of a much larger puzzle in the Minnesota State system during the 2020 legislative session. These investments, comprising $230.8 million in state financing and $40.4 million in college and university support. Next to asset preservation through HEAPR funding Anoka-Ramsey's request has been identified as second in priority. Through the HEAPR portion of the request, Anoka-Ramsey, along with aligned school Anoka Technical College would receive funding to replace outdated electrical systems, roof and exteriors.
"These projects are not just bricks and mortar. They are beyond that, they represent the future of our state and how effective we will be in providing Minnesota the talented graduates it desperately needs," said Devinder Malhotra, chancellor of Minnesota State.
To learn more about the Minnesota State 2020 Capital Request and visit MinnState.edu/legislative.
Supplementary Information
Recent News

Anoka-Ramsey In The News

Contact Us

Marketing & Public Relations

Media Relations Contacts: Mary Jacobson & Fia Prpic