Business Management and Accounting Programs at Anoka-Ramsey Community College awarded global accreditation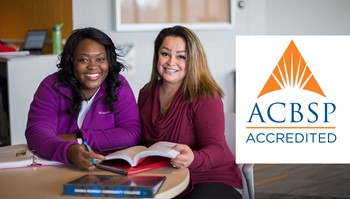 January 10, 2019
Anoka-Ramsey Community College's Business Management and Accounting program was recently awarded accreditation by the Accreditation Council for Business Schools and Programs (ACBSP).
After a two-year process meticulously evaluating the program's leadership, strategic planning, stakeholder relationship, overall quality, faculty credentials and educational support, ACBSP determined Anoka-Ramsey's program to be a hidden gem in the community.
Dr. John Mago, business instructor at Anoka-Ramsey represented the Business Department in the accreditation process, but the effort required extensive involvement from individuals, departments and leadership across the entire institution.
"Anoka-Ramsey Community College has shown a commitment to teaching excellence and to the process of quality improvement by participating in the accreditation process," said ACBSP Chief Accreditation Officer Dr. Steve Parscale, who will present the Certificate of Accreditation at ACBSP Conference 2019 in Houston, Texas, on June 23. "This accreditation is evidence that Anoka-Ramsey is committed to providing the highest quality business education for their students."
As a seasoned evaluator, Mago has spent five years as a peer evaluator with ACBSP, and brought that insight into Anoka-Ramsey's accreditation process.
"It is a long process that takes commitment and belief in the system to earn accreditation. There needs to be a total commitment from faculty and administration to accomplish this process," said Mago. "Seeking accreditation means that you desire to be held to standards and criterion that are recognized as quality measures. The Business Department wanted to be recognized for their continuing contributions to student success and accreditation is another avenue where we can contribute to their success."
Students first
Throughout the accreditation process, students had the opportunity to share their voice and how the Business program has impacted their learning and lives. It's those voices that highlight one of the main strengths of the program, cited by the accreditation committee as well, the quality of the faculty. Beyond their credentials the faculty makes efforts to create impactful relationships to give students real-world educational experiences with practical applications, always putting the student first.
Porscha Sullivan, who will graduate in May 2019 with an Associate of Applied Science in Business in Management Marketing and multiple certificates, has been a college student at many points in her life. Sullivan plans to start her own business after graduation and with the efforts of faculty at Anoka-Ramsey supporting her success, her dreams feel like they are closer to a reality.  
Sullivan recognizes the value of the accreditation and is proud. "Because of the instructors, this program has opened my eyes to so many opportunities and given me opportunities to grow. This accreditation makes my degree more valuable in the real world and recognizes the program for its true worth," Sullivan said.
The work continues
Institutions with programs accredited by ACBSP make a commitment to continuous improvement. Anoka-Ramsey values this call to action and the input provided by the accreditation committee.
After the site visit in September, along with news of accreditation status, the visiting team from ACBSP reports back on areas of recognition and areas noted for improvement.
"Normally, the team provides 10 recognitions and 10 opportunities for improvement," said Mago. "We got 13 recognitions and seven opportunities for improvements!"
"Being awarded with accreditation is just a jumping off point for Anoka-Ramsey," explained Anoka-Ramsey Dean Luanne Hogan. "The accreditation is an annual quality improvement process that we will need to work to maintain. It exemplifies our commitment to students obtaining a meaningful and valuable education so they leave Anoka-Ramsey with the skills employers need and the growing economy demands."
In this academic year, the Business program will serve nearly 1,900 students with more than 800 students declaring Business as their major. Students interested in business can choose from six associate degree options and, through a partnership with Concordia University, have the opportunity to complete a four-year bachelor's degree in Business on the Coon Rapids Campus. Anoka-Ramsey is expanding this option with a new on-campus, four-year Business degree partnership with St. Cloud State University which will be formally announced soon. 
Anoka-Ramsey is a fully accredited member of the Higher Learning Commission and with this accreditation, the Business Department joins the Registered Nursing program, Physical Therapist Assistant program and Music Associate Fine Arts degree program in additional accreditations.
For more information about the Business Department at Anoka-Ramsey Community College, visit: AnokaRamsey.edu/academics/departments-faculty/business.
Supplementary Information
Recent News

Anoka-Ramsey In The News

Contact Us

Marketing & Public Relations

Media Relations Contacts: Mary Jacobson & Fia Prpic