World Languages Department
World Languages Department
The ability to speak more than one language is a distinct career advantage in our "global village" today – whether you major in a second language or not. The World Languages Division faculty opens new doors for students with ASL, French, German and Spanish language courses.
Students seeking a four-year degree can fulfill their college language requirement at Anoka-Ramsey before transferring. And because language and culture are intertwined, the department also offers courses in French, German and Latin American culture. Culture courses are taught in English.
Course Descriptions:
ASL  French German Spanish
Directory:
ASLFrench German Spanish
Admissions | 763-433-1300
Dean Scott Stankey | 763-433-1396
Meet Judah Porter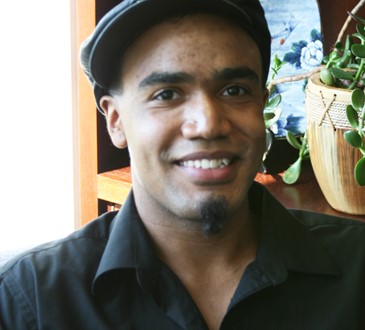 Meet Judah Porter
Chinese Language
Degrees and Certificates We Offer
In addition to Spanish, French, German and ASL Anoka-Ramsey also offers culture courses corresponding to each of our four language departments. The culture courses are taught in English and are cross-listed as Humanities courses. For more details on our language programs and course offerings, please read the World Languages Passport brochure.
Becoming bi-lingual opens one's mind to other ways of thinking. It also opens doors to career choices which require knowledge of a second language. In addition to providing a competitive edge when joining the work force, there are many additional proven benefits from learning a second language - even before you enter the job market. In fact, studies suggest that while studying a second language, you may even become a better student in your other classes by improving your English grammar as well as your memory, attention span, multi-tasking skills and creativity.

With the rise of globalization, four-year colleges are increasingly recognizing the importance of learning a second language.  Most colleges and universities require one or two years of COLLEGE-LEVEL course work in a single world language for admission and/or graduation. But there is no need to wait.  You can fulfill your language requirement at Anoka-Ramsey before transferring.

To successfully learn a language, it is important to enroll at the appropriate level. The rule of thumb is that one semester of college language is equal to two years of high school language. However, there are other factors to consider, such as how many years have passed since you last used the language as well as the different approaches and materials covered in different language programs.  Therefore, before enrolling in a foreign language, you are strongly encouraged to take the placement test for French, German, and Spanish (you will be prompted to provide your StarID and to create your own password). If you still have questions after seeing your test results, email a language instructor for further guidance.

The Coon Rapids Campus offers three dedicated smart-rooms specifically designed for language instruction (two for foreign languages and one for ASL). There is also a state-of-the-art language laboratory equipped with dedicated software and hardware such as Robotel Symposium and Smart Class Plus for audio practice and testing.
Meet Our Students and Alumni
Student Carousel
Carousel Navigation
Carousel Slides
Meet Judah Porter

Judah Porter

MnTC

AA & Chinese Language

"Anoka-Ramsey has been a blessing in terms of teacher-student ratio. For example, in many other colleges, universities and institutions, a student just feels like one among the masses and there is not much individual help available when needed. Here, whenever a problem arises, me and other students can simply get the help we need."

Meet Kirsten Kennedy

Kirsten Kennedy

MnTC

Associate in Arts

"It was so reassuring to know that if I have a question or need help, resources and counseling were always accessible. There were opportunities to participate in clubs and senate for every student. Most important to me was the access and ability to communicate with my instructors when I needed extra help or had a scheduling conflict."

Meet Pablo Samaniego

Pablo Samaniego

MnTC

Associate in Arts

"I chose Anoka-Ramsey for affordability, transferability and location. It is the most affordable tuition in the state, and one of the lowest in the country."
Carousel Pagination