Profile - Victoria Downey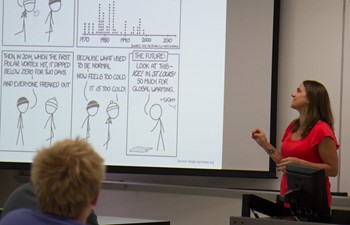 Instructor Profile
Meet Victoria Downey
Instructor of Geography
Master of Arts (MA) in Geography, University of Kansas; Bachelor of Arts (BA) in Geography with Departmental Honors, University of Kansas
Question and Answer
Question

Would you list some recent accomplishments?

Answer

Honored Faculty Member, Anoka-Ramsey Community College Chapter of Minnesota State Colleges Faculty Association, 2014

Silver Chalk Award, Anoka-Ramsey Community College, 2013

Downey, V. 2010. Entries for "Orientalism," and "Post-Colonialism," Encyclopedia of Human Geography, edited by Barney Warf (Beverly Hills: SAGE).

Master's Thesis: Representations of Waikīkī: An Analysis of Hawaiian Tourism Through Hotel Brochures and Websites (2007)

Question

What is your approach to teaching?

Answer

As an instructor, I believe my primary responsibility is to inspire. While a student might walk out the door of our college with a well-earned degree and increased knowledge and know-how, in my opinion, the greatest benefit that they can receive is a lifelong love of learning. In my courses, I work to cultivate this by creating a positive learning environment in which students are excited to engage with the material. Students are encouraged to challenge given assumptions, to think critically about contemporary issues, to take part in meaningful discussion with their peers and, most of all, to enjoy the process of learning,

Question

What inspires you as a teacher?

Answer

I was fortunate to have some excellent instructors during my own college experience, particularly Garth Myers and Kurt Kipfmueller, that have helped me to develop my own teaching style which seeks to bring the outside world into the classroom.

Question

What makes your curriculum interesting or valuable to students?

Answer

Geography isn't always initially of great interest to students, but what I hope students discover is that everything is interconnected. For instance, when we look at deforestation of the Amazon Rainforest in Mato Grosso, Brazil students discover that a large portion of that is for cattle production, some of which is shipped to China to support their growing middle class's demand for beef. Deforestation contributes to climate change in several ways, one of which is by reducing the forest's ability to act as a carbon sink, and increased cattle production also increases methane emissions, which furthers climate change and causes impacts worldwide, including here in Minnesota. We may seem isolated, but we are far from it!

Question

How do you think students describe your teaching methods and classes?

Answer

Hilarious! In actuality, I do try to engage students in a variety of ways, including small and large group discussions, more traditional lectures, short video clips and through humor.
Fun Facts
Fun Fact #1

I also teach yoga (Vinyasa and Ashtanga styles) and have practiced yoga since 2003.

Fun Fact #2

I used to be a synchronized swimmer and was the coach of the University of Minnesota Synchronized Swimming Team from 2009-2012.

Fun Fact #3

I am from Kansas City, which makes me a huge KC Royals and Kansas Jayhawks fan!
Meet Our Students and Alumni
Student Carousel
Carousel Navigation
Carousel Slides
Meet Leetha Phommachack

Leetha Phommachack

Nursing RN

AS Nursing

"Anoka-Ramsey offers many tools for students to become successful in their journey of higher education. I really appreciated the amount of support there is for non-traditional students such as myself."

Meet Andrew Sandahl

Andrew Sandahl

MnTC, Engineering

AS Engineering

"I chose Anoka-Ramsey to fulfill generals and core electives for an electrical engineering degree, to keep overall tuition inexpensive, and to stay close to home. The pre-engineering degree gives beginner engineering students the fundamentals that they need in mathematics, physics, engineering and chemistry. These are crucial to the development they need to build upon when transferring to a university to finish their bachelor's degree."

Meet LaShaunda Newsom

LaShaunda Newsom

Natural Sciences

Biological Science

"Anoka-Ramsey has so many resources and the instructors are very helpful. The majority of my instructors were great but the one that sticks out the most is Jennifer Braido. She's awesome and helpful."
Carousel Pagination