Profile - Donald Sawyer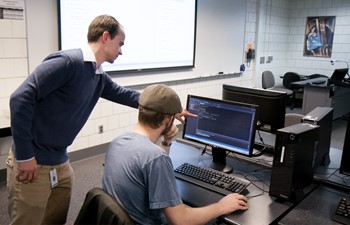 Instructor Profile
Meet Donald Sawyer
Instructor of Computer Science
Master of Science (MS) in Software Engineering, University of Minnesota; Bachelor of Science (BS) in Computer Science, Saint Cloud State University
Question and Answer
Question

What is your approach to teaching?

Answer

I'm a part-time adjunct instructor with 15+ years of industry experience in the software field. I currently work as a Lead Business Intelligence Engineer at Target, and I own my own software company. As a former Anoka-Ramsey student, I am pleased to be able to carry on the tradition of excellence in computer science at Anoka-Ramsey. It is my goal to bring relevant knowledge along with professional development to the courses in computer science.

Question

What inspires you as a teacher?

Answer

I am inspired by the opportunity to help students grow and become successful engineers to advance the IT industry. One key book that shaped my software engineering mindset was Clean Code.

Most of my inspirations came from Anoka-Ramsey faculty when I was doing PSEO: Tim Wrenn, Lance Lund and Mark Omodt really shaped my academic journey and were all reasons I wanted to teach at Anoka-Ramsey.

Question

How would you describe what happens during one of your most successful classes?

Answer

During a successful class, students are highly engaged in working through complex algorithms as a class and maybe even catching a mistake I might make while writing out an algorithm.

Question

What makes your curriculum interesting or valuable to students?

Answer

The computer science curriculum is interesting to students because they learn how to solve incredibly complex problems and create real-world software solutions using various programming languages. There are a myriad of solutions to any software problem, and students can use their creativity to try to find different solutions to the same set of problems.

Question

How do you think students describe your teaching methods and classes?

Answer

Hopefully, they don't find them boring or confusing. I do try to bring some lightheartedness to help make lectures less stuffy.

Question

What are some ways that you help students succeed when they need extra help?

Answer

I like to stay after class or labs when time permits. I try to ask questions that will get them to think about the problem further without giving out the answer. I am eager to respond to questions over email or at office hours. I've written some example software programs for students to use for their own learning purposes.

Question

How do you help your students get the most out of your class?

Answer

I try to be as responsive and approachable as possible, so students can use their curiosity to learn about computer science deeper than what is taught in lecture. I bring some real-world problems to the class to show examples of how material relates to my day-to-day job.
Fun Facts
Fun Fact #1

I have a beautiful wife and two adorable daughters who are very patient with me.

Fun Fact #2

I used to be an amateur triathlete and completed the Florida Ironman in 2008.

Fun Fact #3

I'm a die hard Saint Cloud State Husky hockey fan.
Meet Our Students and Alumni
Student Carousel
Carousel Navigation
Carousel Slides
Meet Jake Oswell

Jake Oswell

Information Systems

AA Computer Networking

"I enjoyed the relationships formed with teachers and other students at Anoka-Ramsey. Along with the cultural diversity, there was also age diversity. We were all in different places in our lives, and able to bring that experience into the classroom to help each other."

Meet Matthew Dion

Matthew Dion

Information Systems

Computer Science & Pre Engineering

"Anoka-Ramsey has so much to offer: cheaper tuition than the University Of Minnesota; computer science and engineering courses; amazing teachers and great clubs such as the Physics and Engineering Club and the Computer Science Club."

Meet Nathan Morris

Nathan Morris

Information Systems

CNET

"Without a degree from Anoka-Ramsey I would not have had a career. While in school I met individuals in the industry. With hard work in class I was noticed and offered a job in the industry. Since then it has been history. I have moved on from my first job and now run a division. I have a stable income even in this economy."
Carousel Pagination